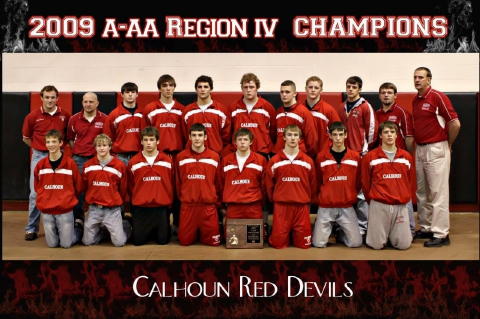 CALHOUN WINNERS (L TO R) Row 1: Jean Blair, Nick Stevens, Cody Clark, Austin Moore, Sean Gungle, Harley Hamrick, Zach Hanshaw, Ben Laughlin; Row 2: Chris Morris, Tony Morales, Jeremy Conley, Aaron Yoak, Tim Sutro, Jacob Haught, Caden Arnold, Christian Cottrell, Dillon Mefford, Derek Metz, Coach Mike Stump (Photos by Patty Haught)
Calhoun County High School wrestlers won the A-AA region IV title last Saturday at Point Pleasant.
Seven Calhoun High wrestlers won the Championship title, however it took the whole team to pull ahead to win the title by two points.
Calhoun has sent 12 wrestlers to compete in the state tournament, which started yesterday in Huntington at the Big Sandy Arena.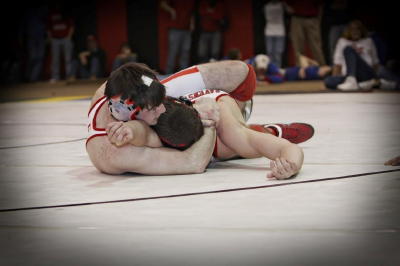 Senior Jeremy Conley works to pin his opponent in the finals
Senior Sean Gungle at the finals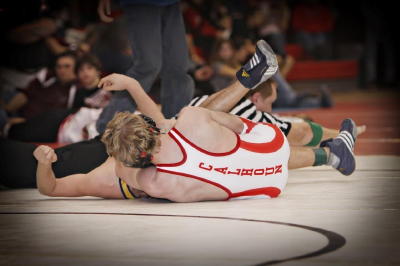 Senior Nick Stevens gets a pin to win
3rd place at the region tournament
Region IV place winners representing Calhoun County at the State wrestling tournament:
Nick Stevens - 3rd place
Zach Hanshaw - 4th place
Austin Moore - 2nd place
Cody Clark - Champion
Sean Gungle - Champion
Harley Hamrick - Champion
Ben Laughlin - Champion
Jeremy Conley - Champion
Aaron Yoak - Champion
Caden Arnold - 4th place
Tim Sutro - Champion
Jacob Haught - 2nd place