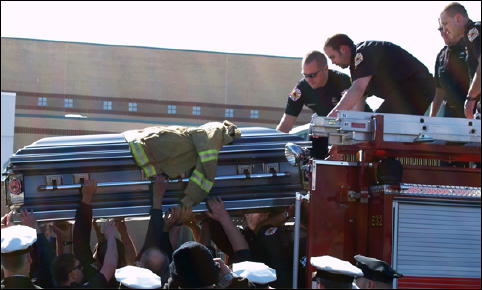 The casket of Lt. Johnny Hammons of the Craigsville-
Beaver-Cottle VFD, complete with firefighter insignia
is loaded onto a firetruck that served as a hearse
Photo courtesy of wvmetronews.com
Hundreds of firefighters and community members assembled Tuesday in the Summersville armory to remember two fallen volunteer firemen who died in the line of duty last week in Nicholas County.
One of the firemen, Johnnie Howard Hammons, 49, of Fenwick, is the brother of Grantsville resident Gary Hammons, who lives with his wife Debbie on Mill Street.
Hammons and 26-year-old Timothy Nicholas received funeral rites with hundreds of firemen, law enforcement officers, and first responders from several states participating in a full fireman's funeral.
After a reading of the Firemen's Prayer, a duo of bagpipes played "Amazing Grace" as uniformed responders lined the walkway of the Summersville Armory.
The firemen's caskets were lifted onto a fire truck for their final journey to the cemetery.
Nicholas was a veteran of the West Virginia National Guard and had served time in the Middle East, and was most recently on duty for the inauguration of President Barack Obama.
Investigators are still working to determine the cause of the Thursday night mobile home fire near Cottle where Hammons and Nicholas died.