Catherine Butcher recorded her first triple-double performance while leading the Lady Titans to victory over Wirt Saturday afternoon at home.

Gilmer's defensive pressure, along with controlling the boards in the final minutes were crucial for the win.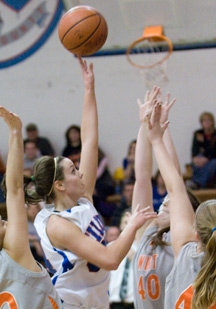 Catherine Butcher drives inside
for two despite heavy coverage.
(Photos by Drew Moody)
With just over 5 minutes remaining the Lady Titans were down by 3.
Just over a minute later the score was tied at 35.
A Butcher inside drive put them ahead for good as the team took over control of the game.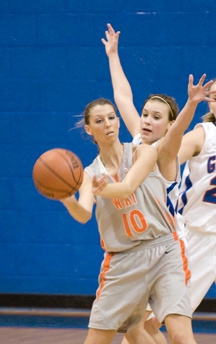 Jenny Wolfe's tough defense was
a constant hazard for Wirt County.
It was Butcher's first triple-double of her career. She scored 24 points, grabbed 10 rebounds and got 10 steals. Although Butcher had trouble finding her shooting range in the early going she made up for it by hitting 14 of 19 from the foul line.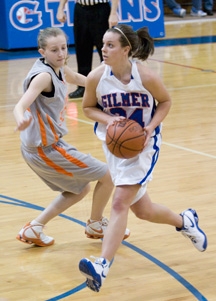 Butcher on a fast-break following a steal.
Jenny Wolfe posted 5 points, 6 rebounds, 3 assists and 2 steals. Hannah DeMarino successfully controlled the ball inside during the final minutes scoring six points and nabbing 4 boards. Brittany Blake added 5 points and 4 rebounds. Maggie Lilly had 6 rebounds, 4 assists and 4 steals.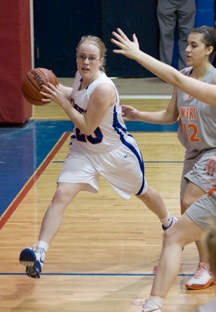 Maggie Lilly prepares to fire a pass across the key.