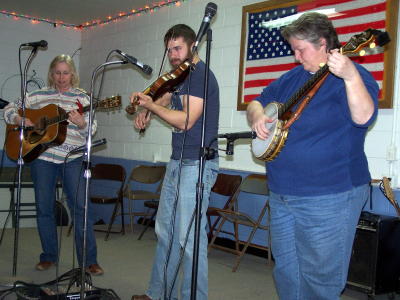 Jake Krack (center) plays with mom Dara
Krack (left) and Kim Johnson (right)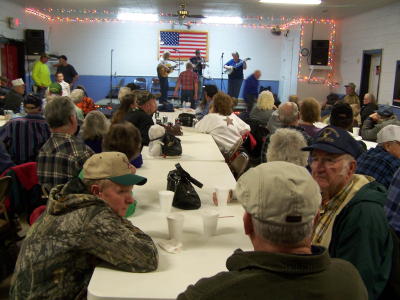 The community building at the UWFP is usually
jam-packed every Saturday night for free bluegrass
Calhoun fiddler Jake Krack played for the home folks Saturday evening at the Upper West Fork Park.
Krack recently joined the arts staff of the West Virginia Division of Culture and History in 2008 as the Individual Artist Coordinator.
The nationally-known, award winning fiddle player has played with countless fiddlers in West Virginia, falling in love with the music of the mountains and its' great musical traditions.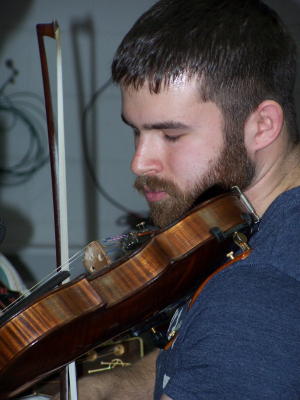 Jake Krack, a resident of Nicut is one
of the county's most accomplished fiddlers
He has played for a number of years with Calhoun's Lester McCumbers, who also performed Saturday night.
Jake recently won the first place Old-time Fiddle Award and Performer of the Festival award at the 73rd Galax Fiddlers Convention 2008 in Galax, Virginia - for the third time.
The Upper West Fork Park has free bluegrass music every Saturday night.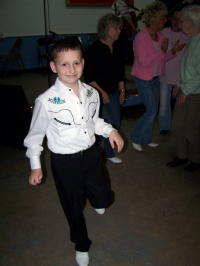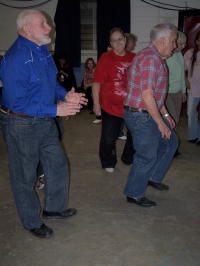 Young Preston Allison dances (left) with a
number of older folks enjoying the evening