Story and photos by Drew
Moody For the Hur Herald

The characters in The Glass Menagerie pin great hopes on better tomorrows.

Set in 1939 St. Louis, Missouri, the cast consists of an overbearing single mother, Amanda Wingfield - played by Sarah Sivard - whose two adult children live with her.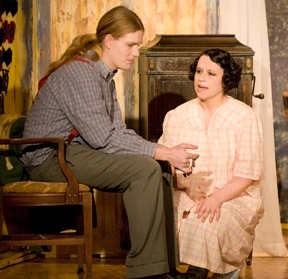 Mother and son frequently argue as played
by Sarah Sivard and William Herold.
Perhaps Amanda would rather for her children to know the person she feels she 'used to be.' She may rightfully believe her children misunderstand her concerns?
Amanda's husband left years ago with little warning or explanation. Yet, his portrait still hangs prominently in the living room.
She idealizes the memories of her youth, argues frequently with her son and worries incessantly about her handicapped daughter.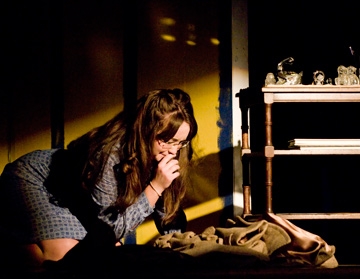 After an argument results in pieces of her glass collection falling to the floor, Laura (Whitney Stalnaker) rushes to see if they are damaged.
Her son Tom, played by William Herold, is an unhappy laborer.
Daughter Laura, played by Whitney Stalnaker, is crippled - perhaps more from her self-image than the leg causing her to limp.
The one bright spot is the relationship shared between the brother and sister, who not only enjoy each other's company, but trust each other as well.
Laura and Tom laugh after he returns from a night out-on-the-town.
News that a gentleman caller will be arriving changes the repetition of their daily grind. Zack Cyriacks plays the role of Jim O'Connor, a co-worker of Tom's, who comes for dinner.
The cast does an admirable job of portraying a wounded family who often shred each other with complaints and disappointment.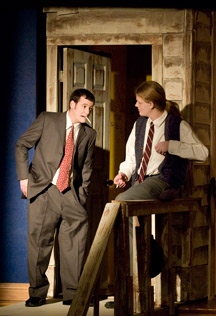 Jim O'Conner (Zack Cyriacks) is the long awaited
"gentleman caller." He and Tom smoke on the porch.
The Glass Menagerie premiered in Chicago in 1944. The following year it was awarded the New York Drama Critics Award. Other Tennessee Williams' plays include: A Streetcar Named Desire, A Cat on a Hot Tin Roof, and The Night of the Iguana.
The Glass Menagerie will be presented at the Presidents Auditorium in the Heflin Administration Building again Saturday evening, February 21 beginning at 7 p.m.