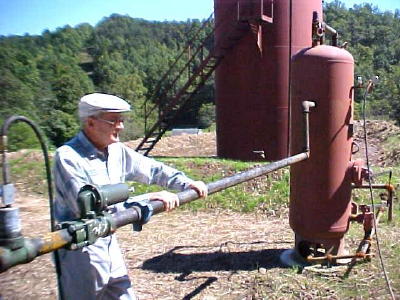 Walter "Emory" Smith stands by a Bull River well on the old
Poor Farm in 2003 - "A good well it is" (Hur Herald Photo)
Well-known Calhoun driller Walter Edward "Emory" Smith of Grantsville has died at age 87.
Funeral services are set for Sunday, February 22 at 2 p.m. at the Stump Funeral Home in Grantsville with the Rev. Mary Zimmer officiating. Visitation will be one hour prior to the service. Burial will be in Bethlehem Cemetery with Masonic Graveside Rites.
Smith told the Herald he was a third generation oil and gas man, saying he and his father Mont drilled about 150 wells, all but two of them in Calhoun. "I haven't had a dry hole, yet," he said.
"I've really enjoyed the gas and oil business, although it has caused lots of headaches over the years," he said.
His grandfather Joe Smith came to Calhoun in 1896 to build Godfrey L. Cabot's carbon black factory at Cabot Station. "He and Godfrey were close friends," said Emory, having worked for him at Cabot, Pennsylvania. His dad, Mont Edward Smith was a "Cabot man" for 50 years.
"My granddad had 13 children. My father, Mont, was the youngest. He ate more chicken necks than any one in Calhoun County," Emory said. "He was the youngest of the kids and he was always the last to get to the chicken platter."
His late father, Mont Edward Smith was married to the late Hattie Lenore Marshall.
Emory was a member of the Knotts Memorial United Methodist Church and was a member of Eureka Lodge #40 AF and AM, the Nemesis Temple in Parkersburg and the Charleston Consistory of Scottish Rite Bodies.
Smith is survived by his wife Mary Loise Wholaver Smith of Grantsville. He was preceded in death by a son, Carl Edward Smith who died of a heart attack at age 42.
He is also survived by two grandsons, Curtis Edward Smith (wife Jennifer)and Bradley Dyer Smith (wife Adriana) of Florida, two great-grandchildren.