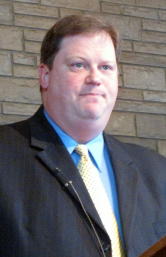 After being Pastor of Grantsville First Baptist Church for 52 months, Pastor Greg Swisher preached his last sermon at the church Sunday, January 25.

"This was a very emotional time for Pastor Greg and his family and all members of the church," said Sue Oshoway, church member.

Pastor Greg said the Lord had told him it was time to move on. He does not know where the Lord is leading him yet, but is doing what the Lord has asked him to do.

The Church honored the Swishers with a dinner January 18 and after evening services on Sunday, January 25, a final farewell was bid with refreshments in the social room of the church.

"Grantsville First Baptist Church will miss Pastor Greg and his family very much but we wish him the very best in doing the work of our Lord," Oshoway said.

Pastor Greg will be back to visit from time to time, and will join the congregation March 22 for Invite a Friend Sunday when Squire Parsons will be the guest.