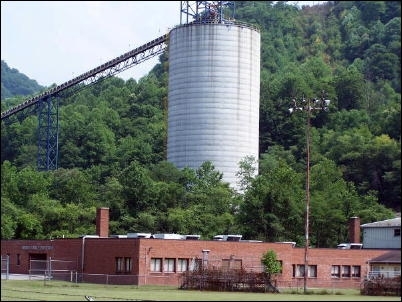 Billions of gallons of sludge hangs over the Marsh Fork
Elementary School in Raleigh County, where a coal silo
is also positioned a within a short distance of the school
By Bob Weaver
A West Virginia Supreme Court decision is pending to allow Massey Coal to build a second coal silo near a Raleigh County elementary school.
West Virginia Chief Justice Brent Benjamin is participating in the appeal involving Massey Energy, even as the U.S. Supreme Court reviews his participation in cases involving Massey Coal.
West Virginia Supreme Court spokeswoman Jennifer Bundy says Benjamin has no intention of recusing himself.
The U.S. Supreme Court agreed last November to review the state court's decision to overturn a $50 million verdict against Richmond, Virginia-based Massey in another case.
Harman Mining and its president argue Benjamin should have recused himself from that case because Massey chief Don Blankenship spent more than $3 million to help get him [Benjamin] elected.
Judy Bonds of Coal River Mountain Watch said "Common sense goes out the window when dealing with Massey." Massey claims it's fine to have a second operation within a few feet of the elementary school.
Neither the state Department of Education nor the US Environmental Protection Agency have actually determined coal dust levels in the school.
The EPA did a test when the operation was at a standstill.
A giant sludge dam just 400 yards up a hill above the school holds 20 times the volume of the Buffalo Creek sludge dam that killed 125 people in 1972.
The Massey sludge dam contains nearly 3 billion gallons.
West Virginia's state Surface Mine Board overturned the Department of Environmental Protection order that blocked the second silo.