By Bruce Boggs

Seventy one school teams participated in the WSAZ Invitational Wrestling Tournament, in Huntington on Friday and Saturday. Spencer Middle placed 25th out of 42 middle school teams.
John Ash in blue and gold
Photo courtesy of Patty Haught
Spencer had 4 wrestlers who advanced to the 2nd day of the competition. Moving on in the championship brackets were John Ash w/ 1 pin at 145#, and Sam Lawson w/ 4 pins at 171#. Advancing in the consolation brackets were Josh Richards w/ 1 pin at 95# and Eli Kennedy w/ 1 pin at 155#.
Placing 2nd in the championship finals was Sam Lawson, decisioned by Lowell Farley from Barboursville 9-10.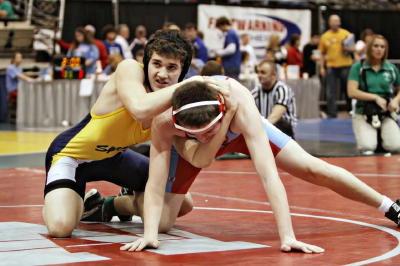 Sam Lawson in blue and gold
Photo courtesy of Patty Haught
Also participating were Sean Blosser, Dillon Clarkson, Joe Copley w/ 1 pin, Mikeal Free, Scotty Gibson, Tyler Lee, Preston Metzger, Caije Nichols, Doug Smith, Caleb Starcher, and Matt Starcher w/ 1 pin.
On deck, Spencer Middle's next competition is Friday and Saturday Jan. 30th and 31st, at the WV Duals in Parkersburg.