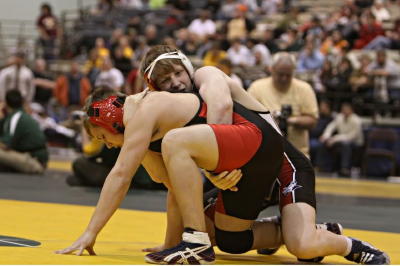 Jared Haught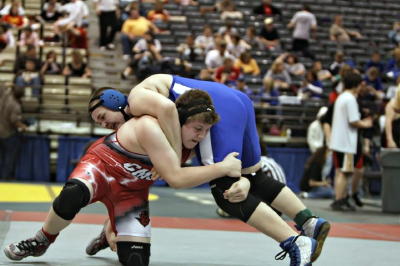 Cody Starcher
Article and photos by Patty Haught
The Calhoun County Middle School wrestling team participated in the 31st annual WSAZ wrestling tournament in Huntington on January 23rd and 24th.
The WSAZ tournament is deemed one of the "biggest and baddest" around with both middle school and high school teams competing. Calhoun entered the tournament with 8 wrestlers.
Wrestling for Calhoun Middle school is Levi Gordon (95lb) Nate Hipp (110lb) Christopher Goad (116 lb) David Overbay (123lb) Austin Satterfield (128lb) Jared Haught (155lb) Cody Starcher (190lb) and Andrew Satterfield (285lb)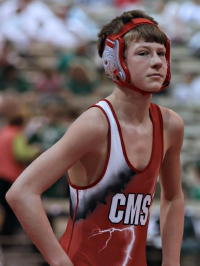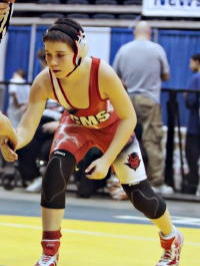 Austin Satterfield (left) and Chris Goad (right)
Because of the size of the tournament wrestlers had to wrestle and win their way into a 16 man bracket. Levi Gordon started out the evening for CMS with a pin against Murphy from John Adams then lost in the next round to Braniff (#2 seed) of Edison. Nate Hipp was leading 6-2 when a knee injury caused a forfeit.
Christopher Goad lost in the first round 5-2 to Linville of Winfield. David Overbay came out strong with a 7-5 win over Davis of Point Pleasant, but was injured in the 2nd round losing to Hileman of Ripley by forfeit. Austin Satterfield lost his first round match of the season to Fiest from Edison.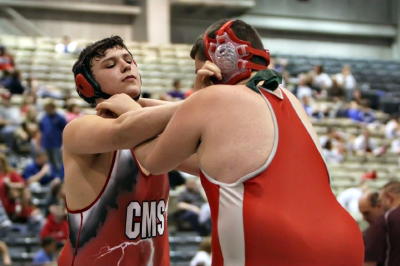 Andy Satterfield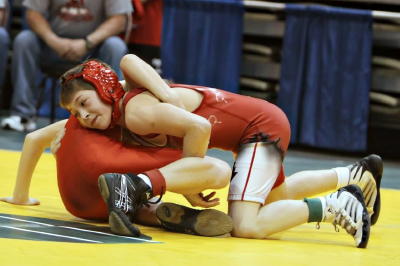 Levi Gordon
Jared Haught pinned Skeen of Andrew Jackson to advance to the 3rd round. Cody Starcher also advanced to the 3rd round by pinning Bayles of Logan. Andrew Satterfield lost to Burke of Stonewall Jackson by pin. During round 3 on Friday night, Haught pinned Jackson of Point Pleasant and Starcher lost by a pin from Wellman of Buffalo.
Saturday began with the consolation round and Cody Starcher started out with a win over Mills of Blennerhassett by a pin. In the next round Jared Haught won with a pin over Pauley of Barboursville. Starcher wrestled in the next round but lost to Walton of Stonewall Jackson. Haught advanced to the finals with a 8-2 win over Roberts of Jackson.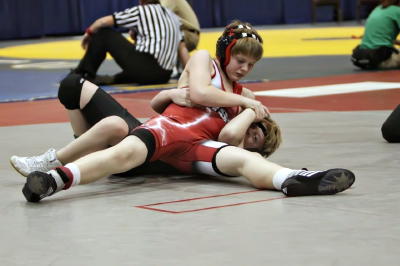 David Overbay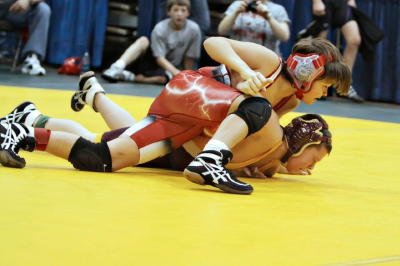 Nate Hipp
The championship match would pair Haught with the #1 seed Charles Ayers of Trap Hill. Haught came into the tournament with a 25-1 record, his only loss was 2 weeks ago to Ayers.
Jared Haught came out strong and outscored Ayers in each period before pinning the undefeated Trap Hill wrestler in the 3rd period to win the title. Haught is the second wrestler from Calhoun to win the title, Cody Clark was the first in 2006.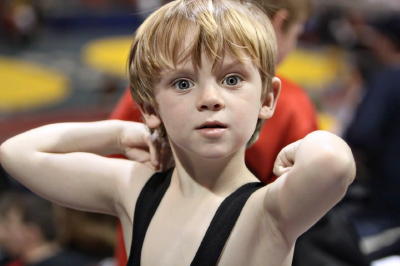 The team would also like to wish Joshua Hixon a very happy 4th
birthday which he celebrated on Friday, January 24th at the tournament