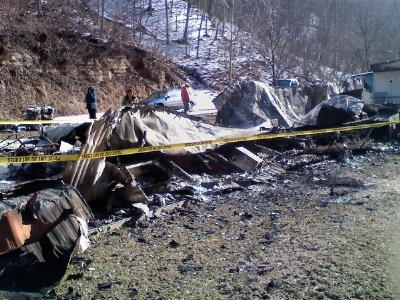 A Calhoun family lost their home and all their possessions to fire Wednesday while they were at work and their daughter in school.
A power company worker discovered the structure burned to the ground in Simmons Hollow off Sinking Springs Road.
Alma and Darren Graffius, and their daughter Carrie, a senior at Calhoun Middle-High School, need a helping hand from the community.
Alma Graffius was recognized last year for earning a Bachelor of Science Degree in Behavioral Science and Criminal Justice, a middle-aged graduate of Glenville State College.
The Graffius' other daughter, Felicia is a graduate of Calhoun High School and is currently attending Glenville State.
"We're getting some clothing donated," said Alma Graffius, "but we need everything else to try and start housekeeping again, dishes, appliances, furniture and household items."
"This is a hard blow to our family, all our family photos and scrapbooks are gone," she said.
Certainly, the family could use cash contributions.
A truck is available to pick up items by calling 304-655-7209.
Contributions can be mailed to: Darren and Alma Graffius, PO Box 153, Arnoldsburg WV 25234.