BEFORE THE COAL INDUSTRY REALLY HIT BOTTOM, THINGS WERE BAD....

Introduction (2001) - Since 1960 I have been traveling West Virginia, having stayed all night in all 55 counties, and in more recent years returning to the sites of my earlier trips, including towns, wide-places, overlooks, sittin' places, mountains, markers, back roads, and some historical sites. It has been a wonderful journey.

Postscript (2020) My 40 year historian friend Jim Mullooly died this year, a tree fell upon him in the woods.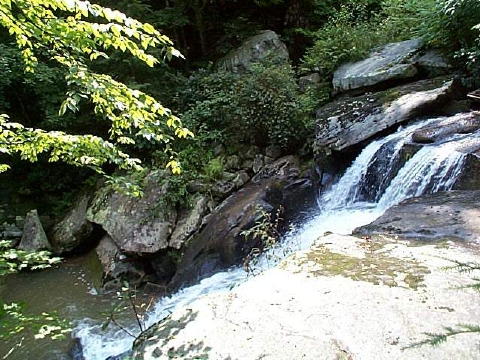 Backwoods waterfall
These past four years we have traveled by the mile, one more time, the roads of Sunny Cal, hill and holler, nook and cranny. There are over 500 miles of recognized road in the county, and hundreds of primitive byways, haul roads and paths.
After wearing Dianne out doing it in 1996, we plan to take the camera and do it again for readers of The Hur Herald - a picture map and chronicle of our county, often not appreciated by those of us who live here.
This years journey covered several hundred miles in the southern West Virginia mountains and coal counties, and was taken to fulfill a promise to Jim Mullooly, my writer, historian and photographer friend of Pittsburgh-Wheeling origin, who always wanted to go there.
Beyond the beauty, it was a time to reflect on the struggles of our people who want jobs, the fading of the old economy and why private enterprise and government ignores Appalachia. This year's trip we will share with you, mostly in pictures.
LONG GONE COAL ALONG ROUTE 52
Leaving the comfortable "millionaire" village of Bramwell, plunging deep into the narrow valleys of coal country along Route 52, the picture changes and for most people it is not a pleasant one.
Jim Mullooly said "It is really not a natural place to live." Thousands of men and women were thrust between the steep mountains and narrow crevices to mine coal and build houses on postage stamp plots or to prop themselves against the rugged hillsides
Rt. 52 Cuts Through Coal Country
The coal industry employed 125,000 people in 1948, but has now dwindled to less than 14,000 statewide, mostly mechanized and long-wall mining.
The population of McDowell County has shrunk by the tens of thousands, leaving behind a sense of despair. A new prison is being built in McDowell, which is expected to provide some basic jobs.
The streets of Welch, most recently noted for one of the most violent outbursts by intoxicated members of the West Virginia State Police, nearly beating a man to death when he questioned them, the cops then trying to steal the evidence tapes from 911 headquarters.
Welch's narrow streets reflect a European presence with a hardy lot of residents occupying the town, trying to forget coal and waiting for better days. Much like we do in Calhoun County, trying to forget the oil and gas days, waiting for some new jobs.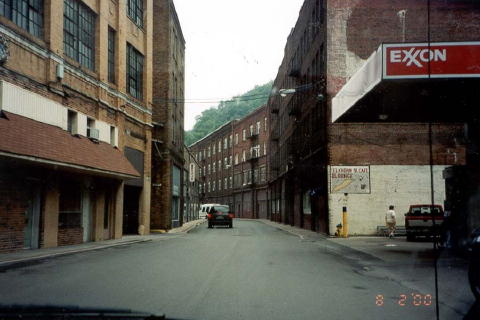 Welch's Narrow Streets "Seem Like Europe"
We traveled through Coalwood, birthplace of the "Rocket Boys," whose story has been made famous by Homer Hickem, Jr. and even more famous in one of my favorite films "October Sky."
A long-gone coal town with company houses, now neatly kept and graced by a single store which houses the "Rocket Boy's Museum" in a portable building. We bought some snacks.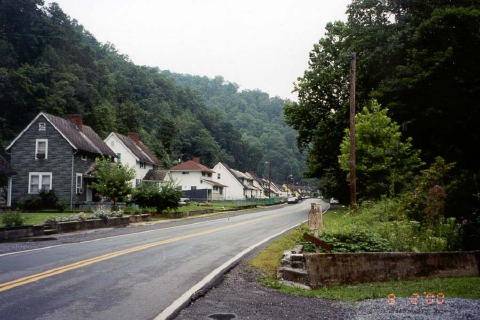 Coalwood - Home of "The Rocket Boys"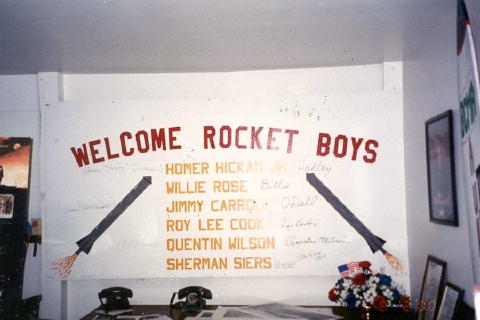 Small Museum Recognizes Local Men
The defining destination of the southern trip was War, the end of Route 16 which twists and winds its way from Pleasants, Calhoun and Clay Counties to McDowell, War and the Virginia line.
War declares itself the southern most city in West Virginia. Route 16 is an umbilical which connects many of the same problems, remoteness, terrible roads, limited infrastructure, few jobs and lots of memories of more prosperous days.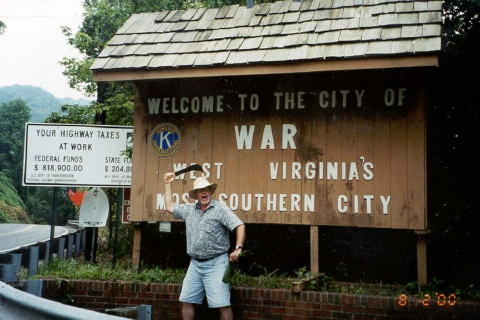 Weaver Welcomes Visitors To War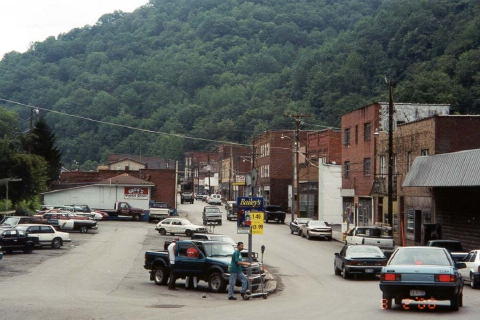 Southernmost War "Hanging On"
Arriving in War, a town I have visited over the years, first-timer Mullooly said he had a "dismal sense the people are marooned here, waiting to die."
He felt even more depressed because rain and clouds haunted the trip, and cut off the precious sunlight in the long-streeted town. I have been to War enough times to feel connected to the people and place, an appreciation for their struggles to survive.
Stopping by the EMS building, a woman presided by the phone in case an ambulance is needed. "All volunteers," she said. "We are barely hanging on to provide the service. We have to load them up and take them part of the way over the mountain to meet an Advance Life Support unit, and transfer them."
She said the local EMS can't maintain the level of trained people to provide better service.
I visited with a town council woman who operates a small restaurant to inquire how the town was doing. "Well, the mayor stole the water money, the library burned down and there are no jobs," she said. "Other than that, we're here."
Mullooly stopped by the Justice Brother's Barber Shop, twins who have been in the location over 50 years and a fascinating duo they are, recently written up in the Charleston newspapers.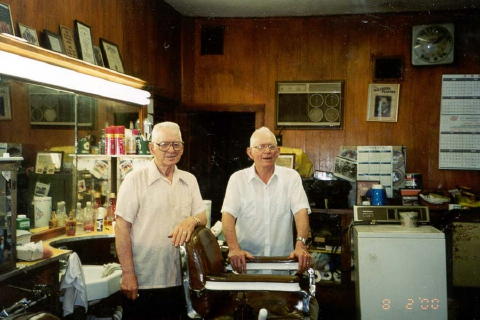 The Justice Twins - War Barbers for Many Years
A storefront library had been resurrected on Main Street, with donations of paperbacks stacked all over the place, crowded around a couple of computers hooked to the Internet.
"We really have our work cut out for us," said a volunteer. "We'll do what we can."
My enlightenment that day was over the economy of America, touted every day by government, business and the media, and how we are left behind here in Appalachia.
Few voices heard for our most basic need, the opportunity to have a job where we live.
We are still trapped by our topography, even into the 21st century.
The voices of our current bunch of politicians rarely mention the disparity, and pretend that 26 of West Virginia's counties are not in sheer distress and poverty, their statistics generally getting worse.
Governor Cecil Underwood's cabinet folks advised me at a meeting that "No amount of handouts will help Calhoun County."
With that I agreed.
The questions burned that day in War, West Virginia. If we can tout ourselves as the greatest nation in the world with the greatest economy known to history, why can't we consider helping our pockets of poverty?
We spend billions of dollars in ventures, with government, the military and business creating jobs all over the world, more often than not with taxpayer money.
Why can't we create basic opportunities to work, right here, for our own people?
Not handouts. Honest to gosh work opportunities.
Is it now a disgrace we are left behind, mostly because our numbers are low and our voting clout is minimal? Rural populations continue to decline.
With those thoughts we departed War, slowly etching our way back to Route 52 and its many towns and villages, all waiting for better times.
It was rewarding to see coal millionaire Buck Harless return his money to his community, including a fine community center dedicated to the memory of his son.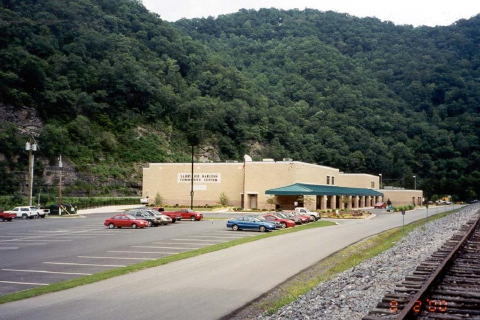 Buck Harless Gives Back
Then there was Matewan, site of one of West Virginia's nasty mine wars, home of town cop and fascinating character Sid Hatfield, who was later gunned down in Welch, not to forget the nearby Hatfield-McCoy feuds.
The town was the scene for the motion picture "Matewan" and now hopes to become a tourist attraction, protected by a monumental flood wall along the Tug Fork.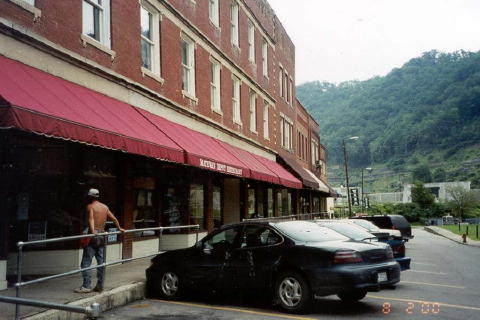 Matewan Wants to be a Tourist Site
Moving on to Williamson for rest and then a return route through Logan and on home to Sunny Cal, we ended this southern journey, remember its beauty, challenges and people. - Bob Weaver/Jim Mullooly photos www.hurherald.com