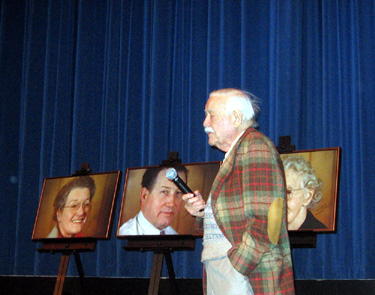 William C. Blizzard at the WV Cultural Center with photos of his parents
on the left and Ma Blizzard on the right Photo courtesy of thegazz.com
West Virginia writer William "Bill" Blizzard of Ripley, has died. He was 92.
He was born December 22, 1916 in Eskdale, West Virginia. He was best known for his work as a journalist and photographer, but was also a member of the UMWA and served in the Air Force during World War II.
There will be a memorial service Saturday, January 3, 10 a.m., at the West Virginia Cultural Center. Burial will follow in Sunset Memorial Gardens, Charleston.
Blizzard was the son of William Blizzard, Sr., who is famous among the annals of WV mining history.
Blizzard wrote "When Miners March," a definitive history of the coal miners of West Virginia in the early 1950s, while his miner's hero father Fearless Bill Blizzard was still alive.
Political realities kept the book in a box for more than half a century, unavailable to either scholars writing their own accounts of the mine wars or Union families seeking to pass on their own proud heritage.
Blizzard has been featured by the History Channel on their prime time special "Hillbilly, The Real Story," and helped with the more recent "Widen Film Project" by WV filmmaker Kelley Thompson.
"The Widen Film Project," is about the rough and tumble mine wars of the 1950s in Clay County.
Blizzard told the story about the origin of "rednecks."
Miners who were in the union (the union of course being the United Mine Workers of America) or sympathetic to it, wore red bandannas tied around their necks so that other miners and their families could differentiate friend from foe.
Hence the name redneck.
Wearing that red kerchief opened one to all kinds of abuse by the forces of law and order, private and public.
It's not like there was really much difference between the two, however, seeing how the coal operators and owners ran the entire state of West Virginia.