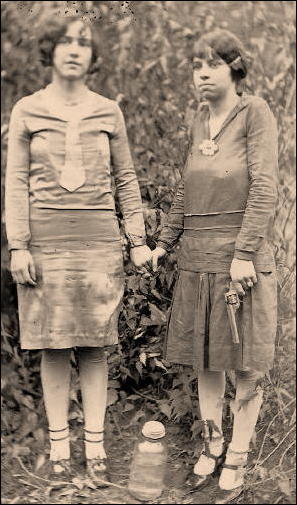 Women with handgun and jar of moonshine at Frozen, Calhoun
County early 1900s, Dicy Cottrell Dixon (married Howard Dixon)
on left, woman on right unidentified (Troy Cottrell Collection)
By Bob Weaver
Calhouners who were looking to wet their whistle over the Christmas holiday, heard the bad news from the US Supreme Court in 1919.
Wartime prohibition of alcohol was held constitutional in a unanimous decision.
The decision was one of the final milestones in the long fight to make this country dry.
Prohibition lasted from 1920 to 1933, during which the sale, manufacture, and transportation of alcohol for consumption was banned nationally as mandated in the Eighteenth Amendment.
Marijuana in the 21st Century has faced the the same prohibition as alcohol, although its affects are considered less dangerous than alcohol by supporters, and has legalized to some degree in about 20 states.
In 1921 there was a Calhoun report that greater interest was shown in the deliberations of the grand jury than is usual.
It was whispered around that an investigation of the making and vending of corn whiskey would be conducted.
Sure enough, subpoenas to come before the grand jury were being issued and the word leaked out that the writs were in the hands of the sheriff.
The newspaper said "There was a great exodus of those who have favored the raisin-jack vendors with their patronage, and for once the supply caught up with the demand."
The principal figure among the boot-leggers complained bitterly because the court had broken up his business, at least for a short time.
The few that did get before the Grand Jury had really bad memories about selling or purchasing hooch in Calhoun county.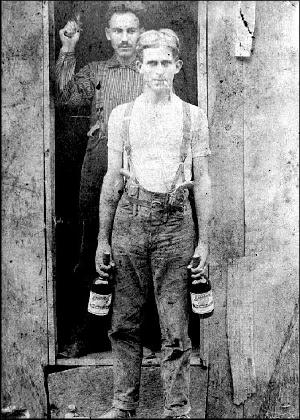 Joe Webb in front, Cort Cunningham in doorway
at Little Creek speakeasy, with several pistols
One witness, Golder White of Brooksville, refused to answer questions proposed to him by the investigating body and was sent to jail for several hours on a contempt charge.
In Calhoun, according to storytellers, the West Fork bootleggers more often than not closed down or sent to jail, while those near Grantsville who supplied moonshine to those who "part their hair in the middle," remained at liberty.
A few Calhoun citizens actually went to prison for moon-shining.
Calhoun still has a tinge of prohibition, being the only county in the state that has by legal vote prohibited locating a liquor store within its' boundaries.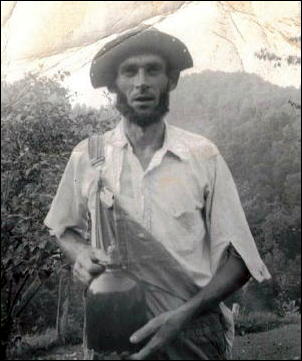 The late Don Phipps, who once lived on Phillips Run, during the 1956 Centennial Celebration, Phipps portrayed a Calhoun moonshine drinker
That is based on an assumption that such a ban will limit the drinking of alcohol, just like the prohibition movement.
The county has long operated under the motto of the Calhoun Chronicle - "Good Government, Pure Homes and Godly Hearts."