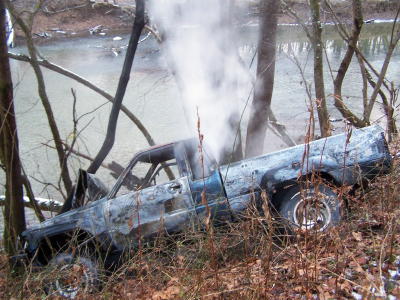 Truck total loss after lemonade failed
Grantsville firemen and Calhoun EMS responded to a truck on fire on Russett Rd., a short distance from Grantsville at 7:18 a.m. today.
The burning vehicle was lodged against a tree, which prevented it from going into the Little Kanawha River.
The vehicle was a total loss.
The driver of the vehicle appeared confused, accusing firemen of "pushing his truck over the hill."
The driver had stopped at a Russett Road residence shortly before the crash, when the vehicle first caught fire.
The resident had just made a fresh pitcher of lemonade, which she used in an attempt to put out the blaze.
Following the crash, the driver left the scene.
Sheriff Carl Ballengee is investigating.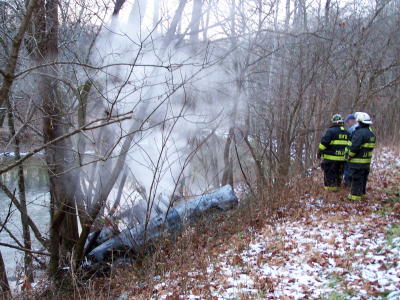 Driver accused firemen of pushing his truck over the hill
Calhoun's 911 center received a report of a breaking and entering at the old Goodrich building on Russett Road Monday morning.
The report said entry had been made through a broken window.
When Sheriff Carl Ballengee investigated, he began to discover a lot of hair.
Shortly, it was determined the intruder was a deer.
It was not learned if the sheriff took hoof prints.