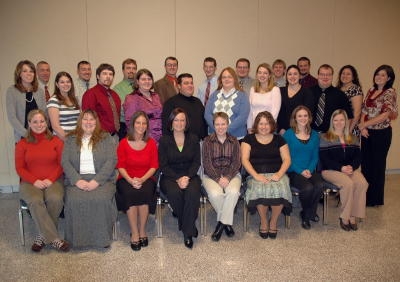 GSC Fall 2008 Student Teacher Interns
Submitted by Bob Edwards
Public Relations Dept. Asst.
Glenville State College
Glenville, WV - Exit Day for twenty-seven fall 2008 Glenville State College teacher interns was held at the Mollohan Campus Community Center Ballroom on Friday, December 5th. The day started with a continental breakfast sponsored by Kappa Delta Pi for all interns, faculty, and staff. All twenty-seven students will be December graduates of GSC.
The GSC Interns include: David Aaron Radcliff, Jerry Stephen Skidmore, James Lee King, Justin Curtis Rose, Joseph Lee Cottrell, Christina Michele Braden, Rebecca June Humphreys, Danny Delano Vanoy, Allison Powers- Beall, Rachel Danielle Burkett, Travis Morgan Fisher, Michelle Renee Archer-Wells, Crystal Marie Metz, Jacqueline Jill Rueckert-Grigsby, Ashley Brooke Linkinogger, Rachel Dionne Renner-Meeks, Douglas Seckman, Jill Marie Brewer-Hardman, Mallory Anne James, Adam Joel Jones, Jessica Renee Jones, Christopher David Shew, Amy Jean Jacobs, Amanda Darlene Riffle-Rial, Amanda Wayne-Gum, Randall James Cook, and Megan Jo Richards.
Glenville State College Provost and Senior Vice President Dr. Kathy Butler addressed the group offering her congratulations and well wishes for their teaching careers. "Each of you will now have the opportunity to change many lives. Strive to create an environment in your classroom that has a maximum impact on your students," said Butler.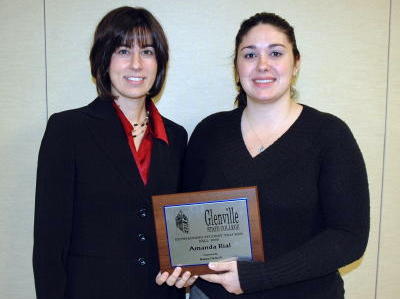 GSC Instructor of Special Education and Faculty Advisor for
Kappa Delta Phi presents Amanda Rial with Outstanding Intern Award
Tara Cosco, GSC Instructor of Special Education and Faculty Advisor of Kappa Delta Pi, the Educational Honor Society, presented the fall 2008 Most Outstanding Intern Award to Amanda Rial of Harrisville, West Virginia. Rial will graduate with a Bachelor of Arts Degree in Education. She completed her student teaching at Harrisville Elementary School.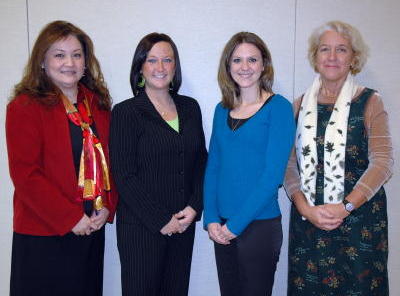 GSC Instructor of Teacher Education-Director of Field
Experiences Connie Stout, Delta Kappa Gamma Intern
Scholarship winners Crystal Metz and Allison Powers-Beall,
President of Local chapter of Delta Kappa Gamma Janet Bailey
The local Alpha Zeta chapter of Delta Kappa Gamma, A Professional Honor Society for Women Educators, presented two $100 Intern Scholarships. Recipients were Crystal Metz of Gilmer County and Allison Powers-Bell of Braxton County. The awards were presented by Chapter President Janet Bailey, GSC Associate Professor of Physical Education, Athletic Director, and Women's Golf Coach.
Several of these December Graduates have already been offered teaching positions. A class of approximately twenty student teachers is expected for the GSC Spring 2009 term. Glenville State College continues to be a leader in Teacher Education in West Virginia.