By Bob Weaver

A warrant has been issued for a Parma, Ohio man who allegedly robbed the Arnoldsburg branch of Calhoun Banks yesterday evening.

The suspect is still at large.

It was likely the first bank robbery in Calhoun's 152 year history.

Police are reportedly looking at the participation of other local individuals involved in the heist.

The Grantsville Detachment of the WV State Police have yet to release eyewitness descriptions of the bank robber who was caught by video surveillance from at least two locations.

The suspect went into Speedy Mart in Arnoldsburg and requested the price of cigarettes, and then apparently walked next door to the bank's drive-through window and demanded cash.

Arnoldsburg bank manager Bruce Fitzwater said the female clerk remained calm and followed training procedure clerk's learn about hold-ups.

She gave the man money from the cash drawer, without incident, Fitzwater said.

A van apparently used in the heist was towed from an Arnoldsburg residence late yesterday to the State Police barracks at Grantsville.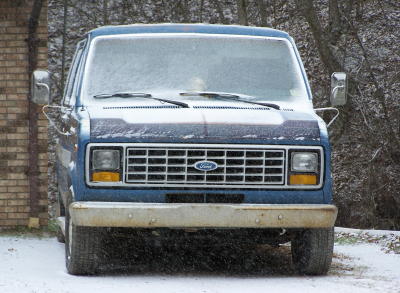 Van reportedly used in robbery was towed
to State Police barracks in Grantsville
The Hur Herald issued a request for information related to the incident, which was forwarded to South Charleston, requesting confirmation of the incident, the amount of cash taken, description of the bank robber and a video tape photo.
The agency has been unresponsive.
Read earlier stories...