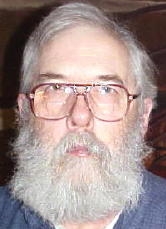 By Alvin Engelke
alvinengelke@hotmail.com

The big event in the Creston area is firearms deer season. Folks have been coming in from Ohio (& elsewhere) bringing big FWD trucks, ATVs and other paraphernalia apparently necessary for 21st century deer hunts. There are lots of trophy bucks to be harvested this year.

There has been a lot of "sighting in" of deer rifles. Those shots heard during the day at sites routinely used for such seem likely but the shots at and after dusk might seem to be questionable. Last year some of the Buckeyes were using crossbows mounted on a vehicle.

It was learned that Cap'n Spock's Enterprise was stopped by a Klingon who demanded (and collected) a "contribution" for The Intergalactic Forced Sojourn Hotel. Apparently, even Klingons have to maintain their quotas.

The Annamoriah Cowpoke has been visiting his mother and other area friends & relatives whilst hunting trophy bucks to take back to the Tar Heel State. The Cowpoke was very upset over the election of the big-eared gentleman who has, so far, spent over $800,000 to keep people from seeing his birth certificate. Certainly makes one wonder. Of course some would say that pesky old Constitution probably should be ignored if the Messiah turns out to have been born in Kenya. Of course later traveling on an Indonesian passport "wouldn't raise any questions".

The lefties, who sometimes call themselves "progressives" have other problems with "that old document" because it talks about free speech and the right to keep & bear firearms both of which are problems to tyrants. How can one round people up to take them to "camps" if they shoot back? As Joe the Plumber learned, those who do not parrot the party line must be silenced.

Keith Belt brought the message at the Burning Springs M. E. church.

Mr. & Mrs. Joe Pennington were visiting with family members over the weekend. She was also consulting with Dr. Shah.

Sarah Douglas Johnson is on the sick list suffering with a cancer.

The price of local Penn grade crude is now $43.75 (down $100/bbl from the high) and gasoline prices are below $1.90. The talk among the "chattering class" now is that gasoline is too low and people will use too much so the Obama group should levy a federal tax to make gasoline either $3.50 or $4.50/gal. This "should encourage riding mass transit" or so they say.

When locals point out that there is no local "light rail" or subway one is always reminded of the former WVU president who said the residents of W. Va. should all be moved into a few cities so "services" could be provided easier. He now draws a 7-figure salary from a school in Ohio. Big Brother has lots of things planned for the "subjects".

Leasing activity in southern W. Va. continues for the Marcellus shale while Equitable is busy obtaining leases in Roane County, picking them up on the cheap. It was also learned that Equitable has been advising independent producers that sell on their system that perhaps they should look for another gas pipeline.

Dominion Transmission advised some W. Va. producers that the firm needed to remove the gas that they had in their storage fields "because it had been there too long and they might not be able to recover it if the stored gas stayed more than four years." One might want to consult with one's gas storage engineer on that one.

The hearing for Chesapeake's forced pooling action for the deep well in Roane County is still scheduled for 10 A. M. on December 2 at the DEP office in Kanawha City. Exxon, which was part of the 9% who had not agreed with the terms offered Mr. McClendon's company, settled. In Texas the royalties paid in similar situations start at 20% instead of their offer of 12.5% of the net.

On Sunday some black buzzards were down on the dePue straight dining on venison. These fowl are not native and are known for picking out the eyes of calves, lambs, etc and then waiting for the animals to die or people to become unconscious. The three S treatment has been suggested, that is shoot, shovel and shut up.

There was a funny looking truck in Creston Sunday and the label indicated that it had something to do with roads. The driver said they were doing an analyses of the road surface for maintenance studies and that they were based temporarily in Ripley but that the firm was based in Richmond. From his accent he was from much farther away. With all the surplus funds it is good that the Big Boss is giving contracts to out of state firms to figure out what to do with the roads he has more or less abandonded. Speaking of the state a P R man said the Freddie Mac/Fannie Mae financial mess hadn't hurt West Virginia much as the state's investment fund had 'only' lost $2.5 billion.

Folks from both Calhoun & Wirt Counties attended the historic hearing on the CNR/Chesapeake fraud case in Roane County Circuit Court Saturday. Judge Evans approved the $380 million settlement in what is known as the Tawney suit. Among those testifying were Garrison Tawney's daughter Ann, land company representatives and experts on the calculation of royalties & the distribution of claims in class action lawsuits.

Winter came to the Creston area with phase changes in water pipes, several inches of snow and slippery roads. Tuesday's snow was a dandy but the early Friday morning one made for some very treacherous roads. Folks traveling in Wood & Calhoun Counties encountered great difficulties.

The lack of salt for roads continues to be a matter of grave concern. Local SRC dump trucks are to go to Lost Creek to haul salt to various of the state road facilities. Earlier some of the wise ones were going to have single axle trucks go to Baltimore to haul back loads. It was then noted that in Maryland the local fellows would have to carry medical cards (which most don't have) and that log books would have to be kept and the hours for the trip would not 'come out right' requiring two drivers per truck.. Free salt brine has been offered but the salt lobby has a strong influence or as they say, "Money talks".

It was also learned that if there is a shortage of salt "in the big counties" the deicer can be taken from stockpiles in the "small counties". Of course that is fair as "ain't nobody impotent live way out there".

Local residents attended the Thanksgiving dinner held at the Calhoun County Court House & feasted on fine grub. There was also a good crowd on hand for the Calhoun County tax sale. There was some spirited bidding on a tract on Little Creek that has a Sterling (Prime) well situate thereon.