FORMER GOV. CECIL UNDERWOOD DEAD AT 86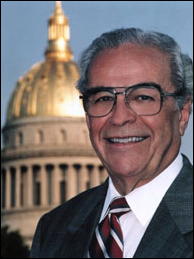 Former West Virginia Governor Cecil Underwood has died.
Underwood was well-known to the Calhoun community, having married Calhoun resident Hovah Hall, who preceded him in death. Underwood died earlier today at the Charleston Area Medical Center after being admitted yesterday.
He was 86.
Underwood had been in failing health for months.
Underwood, a Republican, had the distinction of serving both as the state's youngest and oldest governor.
He was first elected governor when in 1956 when he was just 35 years old, serving one term.
He was elected again in 1996, but lost re-election in 2000.
The West Virginia Division of Culture and History says Underwood spent his first term working "to improve roads and assist those impoverished by rapid technological changes, particularly the mechanization of the coal industry."
He won a second term in 1996 with the help of Democrats who opposed the Democratic Party nominee Charlotte Pritt.
When he wasn't running for office, Underwood worked as an entrepreneur, working for Island Creek Coal and the Software Valley Corporation in Morgantown.