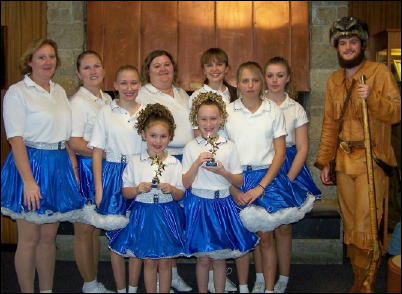 Submitted by Kim Miller
The Hillbilly Stompers Clogging Team traveled to Morgantown, West Virginia November 15 to compete in the Mountaineer Week Clogging Competition at West Virginia University. Team members are from Braxton and Clay Counties.
Levels of competition included Open Line, Precision, Exhibition and Solo, Duet and Trios. Each level consisted of three age divisions: 10 years and under, 11-17 and 18 years and over.
The Hillbilly Stompers competed by performing five different dances, three of which were choreographed by team members.
The team was awarded first place in the Open Line 18 and over with their performance of "Back That Thing Up," first place in the Solo, Duo and Trios 10 years and under with "Hambone" performed by Peyton Smith and Katelyn Moss, first place in Solo, Duo and Trios, 11-17 with "Lost Indian" performed by Sam Conrad and Julie Rollyson, first place in Solo.
Also, Duo and Trios 18 years and over with "If I Could" performed by Kim Miller, Lorrie Smith and Anna Lowry, and second in Solo, Duo and Trios 18 years and over with "Dueling Banjos" performed by Samantha Moss and Anna Lowry. The Trio performance of "If I Could" also received the Overall High Point Award for the competition.
Those attending the competition included Kim Miller, director, Lorrie Smith, Peyton Smith, Samantha Moss, Katelyn Moss, Julie Rollyson, Sam Conrad, Anna Lowry, and Amanda Cunningham. Group members not able to attend were Brittney White and Stephanie Harper.
If you would like to book the Hillbilly Stompers for your festival or event, you may do so by calling (304) 364-5576.