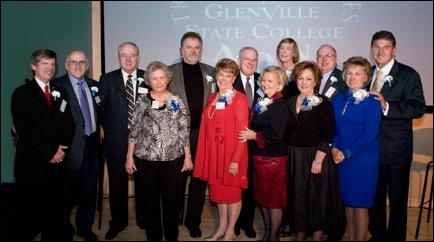 Members of the "Transforming Lives NOW! Steering Committee poses with GSC President Peter Barr and wife Betsy along with Governor Joe Manchin and First Lady Gayle Manchin. Pictured from left to right: Dr. Peter Barr, I.L. Morris, Tom McPherson, Mary Lee McPherson, Greg Smith, Betsy Barr, R. Terry Butcher, Sue Morris, Diana Butcher, Nasia Butcher, Tim Butcher, Gayle Manchin, and Governor Joe Manchin.
Submitted by Bob Edwards
Public Relations Dept. Asst.
Glenville State College
Glenville, WV - Glenville State College President Peter Barr has announced that the capital campaign has reached the eight million dollar mark of its twelve million dollar goal. "I am overwhelmed by the tremendous leadership of the steering committee. This group of caring alumni has given our campaign great momentum and energy. Through their dedication, generosity, and labor of love, Glenville State College continues to move forward toward the goal of becoming the best small public college in the country," said Barr.
A Celebration was held at the GSC Mollohan Campus Community Center to recognize the 'Transforming Lives NOW!'(TLN) Steering Committee chaired by I.L. and Sue Morris and members: Greg Smith, Tom McPherson, Terry Butcher, and Tim Butcher.
West Virginia Governor Joe Manchin and First Lady Gayle Manchin also attended the GSC Celebration. The Governor made a special presentation to I.L. Morris proclaiming him the first ever 'Ultimate Pioneer' for his previous and continuing support of Glenville State College and Central West Virginia.
GSC Senior Vice President Danny Nicholson made a surprise announcement that President Barr and his wife Betsy are making a personal donation of $50,000 to the campaign. Their gift will be used specifically for the Faculty and Staff Enhancement Initiative. "We feel that it is very important that this campaign addresses the needs of the faculty and staff that make Glenville State College so special," said the Barrs.
A highlight of the evening was a presentation by selected GSC students from the Call Stars phone-a-thon and Hidden Promise Scholar students. The students recounted their conversations with reconnected alumni across the nation. The celebration included a dinner and dance in recognition of the campaigns accomplishments and to recognize the efforts of the Call Stars and Hidden Promise Scholars.
The 'Transforming Lives NOW!' campaign, kicked off in July 2007, is the first comprehensive effort to secure the future of Glenville State and the impact of the college on students and Central West Virginia. The campaign began with magnanimous gift of five million dollars by I.L. and Sue Morris, chairs of the TLN steering committee. "We have a long way to go to reach our goal, but we are encouraged by the tremendous response of those who understand the urgency of the effort to help Glenville State College respond to the challenges of the 21st century," said I.L. Morris.
For more information about the 'Transforming Lives NOW!' campaign, contact Denny Pounds, Executive Director of GSC Foundation at (304) 462-7361 ext. 7601.