By Tami Allen

Fall Book Fair - A Huge Success!

Arnoldsburg School sold approximately $2,000 worth of books and merchandise at their recent Fall Book Fair. The school will receive about $1,400 worth of books as their profit. Some of these books will be given to the school library, and each student will receive two free books in December. A big thank you goes to the thirteen volunteers who helped Title One during the book fair. We could not have done it without them. We also wish to thank the Y-Restaurant for their support in allowing us to place a money jar for donations to purchase books.

Technology Workshop

Title One will be offering a parent technology workshop on December 2nd at 2 p.m. Maggie Bennett, Technology Integration Specialist, will be demonstrating some of the programs and hardware that Arnoldsburg students use at school. She will also present strategies for parents to monitor what their children are doing on the internet and what to look for to keep them "surfing" safely.

Participants will also be introduced to useful educational web sites for children that can be accessed at home. The door prize for this session is the PlayStation 2 version of Wall-E.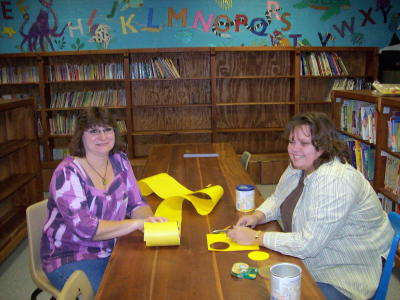 Sheila Hall (L) and Lorie Bailey (R) working on a new project
New Library Scanner
The Arnoldsburg School library has had a recent update, helpers, Betty Ellison, Sheila Hall, and Lorie Bailey are now able to scan library books. This allows them to keep better track of books, and saves them a great deal of time.
In addition, library helpers recently organized a fundraiser selling bottles of Pepsi products. They were able to raise $430 which will be used to purchase new books for the library. If anyone would like to make donations to the school library for new books please contact the school at 655-8616.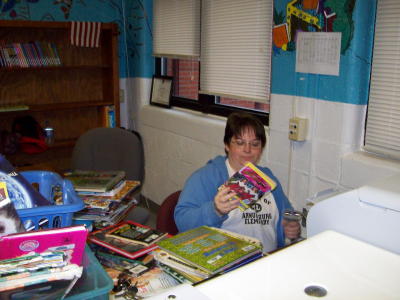 Betty Ellison scans returned library books