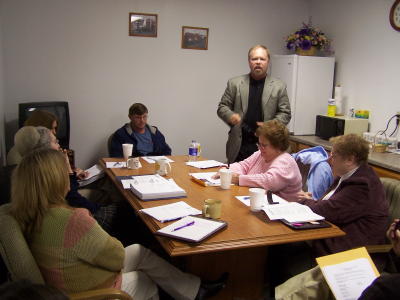 CRI executive director Steve Ellis becomes angered over
press coverage of board meeting, threatening to leave
By Bob Weaver
Community Resources, Inc. Director Steve Ellis became angered Wednesday during a Little Kanawha Bus Company transit board meeting in Arnoldsburg during efforts to reach a settlement over grant money the bus group believes is owed them.
Ellis, who now heads the financially troubled multi-county poverty agency, was being pressed to pay part of a $170,000 grant issued to CRI but never received by the bus service when it was under CRI's umbrella.
"The $170,000 claim is jeopardizing CRI's financial future...We do not have the money," Ellis told the board, asking that the debt be forgiven.
State officials have apparently already forgiven CRI of $85,000, leaving $85,000 in question.
The LK bus service says it dutifully delivered the special needs service required by the grant to the community, although it was never paid by CRI.
Ellis told board members "There are hard feelings toward CRI. You want to punish us. It's like a gotya...I appeal to your goodwill."
Susan O'Connell with the state's Division of Public Transit, commented "It is not an option just to wipe this off the books," indicating the money would give the LK Bus service additional reserves.
Board member Diane Ludwig said "I don't feel CRI is taking the right course. This is misuse of funds, There has to be an attempt to pay-back LK Bus."
Ellis said "The LK Bus is not taking the hit. This money is not even on their books," with Ludwig disputing Ellis' logic.
"What we have lacked is a good faith effort to take care of the debt," Ludwig said.
"I wish I could come up with a good faith effort," responded Ellis, saying the agency has no money for the payment, later suggesting he might agree to 5 cents on the dollar.
He told Ludwig coming to the Arnoldsburg meeting was a good-faith effort.
Ellis was reminded LK Bus had already settled for 50 cents on the dollar.
Ellis, whose initial request for an executive session was denied because such discussion is not allowed under WV's open meetings law, threatened to leave the meeting when the Hur Herald was taking a photo of the board.
Ellis told the Herald he wanted no photos, after which he was informed the meeting was public and open to photography.
Following the outburst, he decided to continue the meeting.
Candace Westfall of Spencer, who sits on both boards, said the CRI board was told by former director Melanie Pagilaro there was no clause in the original grant that said the money had to be given to LK Bus, although the grant was directed to helping special needs provided by the service.
LK Bus board member Mike Ritchie said his vital concern was "Not to sink LK Bus," a viable service operating in Calhoun, Roane and Jackson counties. He questioned "How will others (like the WV legislature) look at just forgiving taxpayer money?"
Ellis said "I'm fighting for the life of CRI," maintaining the agency has major financial problems.
Ellis told the Calhoun Commission last May that CRI was $100,000 in debt, while other sources had indicated the debt was about $500,000.
LK Bus board member Rick Sampson said Wednesday CRIs debt is somewhere between $300,000 and $600,000, indicating he has always been hopeful the agency can continue to help county citizens.
The LK bus board indicated a final decision will be made during a December meeting regarding collecting the grant money, while state official Susan O'Connell said a letter would be issued CRI regarding forgiveness of the first $85,000.
Last year, when CRI's money problems mounted, there was a tightening and downsizing of the agency, while a state audit revealed critical management problems under former director Pagilaro.
Darlene Harris, who manages the LK Bus system in Calhoun, Roane and Jackson counties, said the company is doing well and providing a much-needed service in tough economic times.