By Alvin Engelke

Those who plan ahead should note that the Creston Auction will be held Saturday, January 5 at 6 p.m. at the Creston Community Building weather permitting. Proceeds go to maintain the building.

Speaking of weather, warm temperatures continue to be the norm. Asiatic beetles (government ladybugs) are active and hunters report problems getting game worked up before the flies move in.

The Westvaco clear-cut of Pete's Run is now back to the road on the ridge. Those who want to see the area before it is peeled should waste no time. A significant amount of fine young timber is being cut to make way for the bulldozers, Mexican tree planters and pine monocultures.

Anna Engelke and Fritzena were visiting the home folks in Creston over the weekend. Also calling was Keith Collins who was able to work in a little four wheeling on the Richardsonville road.

Nancy Hall reports that she feels much better now that she received a blood transfusion. It seems she was three pints low.

Anna Engelke had her first experience sitting in a cruiser explaining what happened. Seems the fellow ahead made a very rapid stop and his muffler came in contact with a front bumper whilst they were all going down Murdoch Avenue. Officer Stalnaker, who is an avid Creston News reader, wrote out a little paper "as a souvenir."

Mr. and Mrs. Richard Martin were visiting his parents, Mr. and Mrs. Harold Martin it was learned and the elder beat the younger in cribbage. Harold will soon be 94.

Enron continues to be in the news. Seems back in 1995 Enron was having problems with the government of India so the U.S. President at the time "helped". As a reward the DNC received $100,000. That was in addition to what the "seat cost" on the trade mission to Croatia that was orchestrated by the late Ron Brown.

Those who leased property to Cornerstone Energy and those who have/had gas contracts with Enron received letters from EOG Resources of Houston, Texas. The letter stated that EOG was formerly known as Enron Oil and Gas but was split off and is now a separate company and not affiliated with Enron. This sounds like the crafty fellows at Enron studied under the Rockefeller family when they did the Columbia bankruptcy to beat their retired employees and others whom they wanted to shaft.

Cabot Oil and Gas has started a deep well on Brown's Ridge just off old U.S. 21 south of Rockport. An outfit from New Jersey is drilling the first part of the hole. The location is easily reachable by automobile on a good gravel road.

Dave Freshwater drilled in a fine shale well on Hurricane in Roane County. It was learned that another new shale well in the area was only feeding 100M/day with 230 lb. on the wellhead. The operator said he was going to turn it wide open which will ruin the well.

The Securities and Exchange commission is reported to be hot on the trail of one local promoter. A front man for another lease broker got rather bent when one of his "confidential" maps started making the rounds.

A reporter for the Parkersburg News learned what most folks already knew. In all too many cases local government keep their doings secret always acting like there is something to hide. One can always wonder what will turn up when the rocks, old boards and roofing are turned over in the bright sunlight. It has been noted that there ia now a new U.S. attorney.

Local residents continue to be concerned about the War on Terror. New developments in various parts of the world do nothing to settle nerves. A liberal senator from California whose husband trades with the Communist Chinese slave labor camps suggested that student visas for foreigners be held up for six months until customs and immigration could get a handle on the situation. (Even some liberals are worried). However the plan died when the big universities cried foul. They said who would study math and science and go to engineering school? The bottom line seems to be that U.S. schools are so bad that most cannot do college level work in the "hard sciences". Apparently the unending supply of money that has been poured on the education problem has not gone where needed but to build palaces, pay big salaries for "educrats", special programs of dubious worth, etc. The hijackers in the september 11 mass murder were largely in America on "student visas". Congress recently passed a new bill to pour even more money in the failed education scheme that cheats America's youth and threatens national security.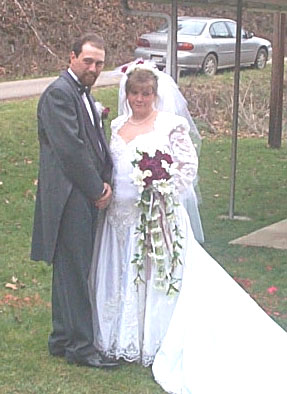 Danny Stutler and Gloria Cottrell were married at the Little Creek Community Church Saturday afternoon. After the double-ring ceremony officiated by the groom's uncle, Rev. Delmas Stutler, the new couple posed for pictures outside briefly before going to the reception at the Creston Community Building.
Those participating in the wedding included Tim Carpenter, best man; Michelle Carpenter, Matron of Honor; John Peck, usher; Amber Dawn and Ashley Nicole Petry, flower girls.
Debbie Griffin and Uncle Pete recently dined at Mike's Place in Elizabeth on the return trip from Parkersburg. The good homestyle cooking appeals to their taste much more than the fast food places in the bigger towns. Uncle Pete bragged on the vegetable soup.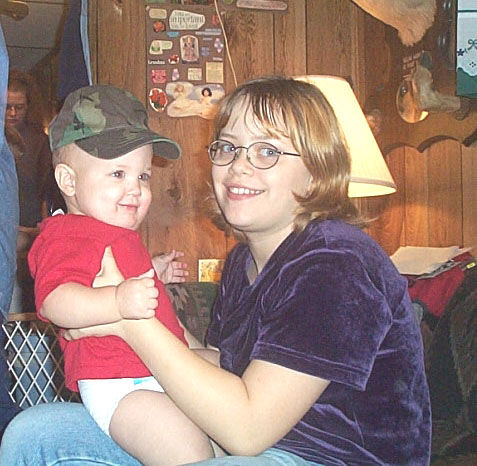 Tracy, BreAnna and Brody Harris, Lois Marks, C. Romeo (Jr.) and Chris Griffin, Granny Harris, and Debbie and JB Griffin were on hand to help Dalton Levi Griffin celebrate his first birthday. He received some presents and played up a storm with the whole crowd. The best part of the evening was when he ate some birthday cake, in classic one-year-old style.
Bill and Donna Chambers of Jeffersonville, Indiana, and Eloise Wayne, of Louisville, Kentucky were among those visiting Aunt Verda and Uncle Pete at their Millstone residence this past week.