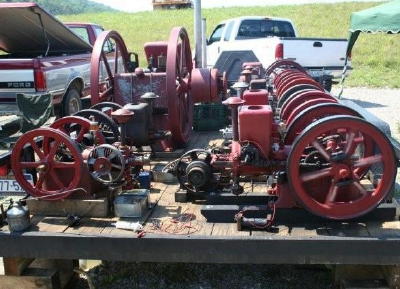 By the Lake Antique Equipment Show will be held November 7th and 8th rain, snow or shine in Harrisville, Ritchie County, West Virginia.
There will be hit and miss engines, tractors, trucks and cars on display. There will also be a flea market. Concessions will be provided by Hop and Terry's Country Kitchen. Admission is free.
On Saturday the Ritchie County Car Club will have a car show from 10 a.m. until 2 p.m. At 1 p.m. on Saturday there will be an "Anything on wheels" parade.
One of the antique gas engines on display is a 20 HP Pattin Brothers owned by Myles and Ruth Lamm. Their son Mike will be coming in from North Carolina to spend the weekend with his parents at the show.
In the working days of the engine it was on a lease on Brushy Fork Road. Ruth's father was the first one to start it when it was put on Brushy Fork. The engine was across the road from where Ruth's parents lived and the day Ruth was born the engine was running.
Her father pumped the lease for 23 years. Some days her mother would start and tend to the engine while her dad pumped another well. Myles was able to get the 20 HP Pattin Brothers engine around 1986. He spent about 2 years getting it back in working order and shows it several times throughout the summer.
There are several fathers and sons that spend time at the engine shows. Joe and Steve Jarrell attend several shows throughout the summer. They show a 9 HP United, 1¾ United, 1¾ Associated Choreboy, and 2½ Economy. Come out and visit with these families and many more on November 7th and 8th.
A special thanks to the Ritchie County Parks and Recreation for the use of their facility. For more information contact Johnnie at 304-869-3836 or 304-481-3687.