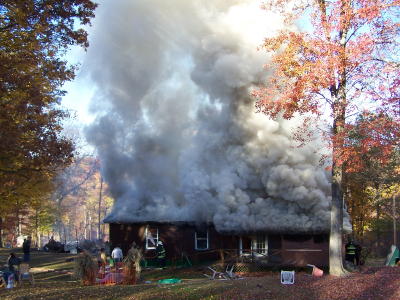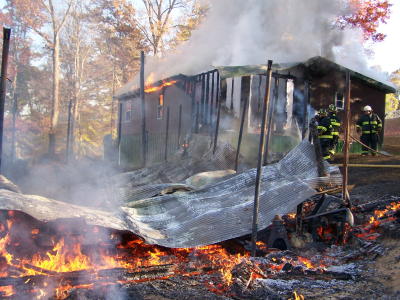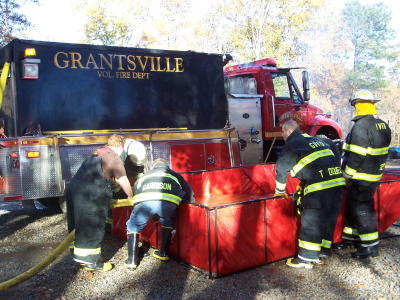 Firemen from three fire departments attempt
to bring Big Springs blaze under control
A Big Springs home and garage burned this morning, the property of Rodney and Roberta Frederick.
A nearby garage ignited first, with the flames spreading to the nearby house.
Roberta Frederick said the lights dimmed in the house, she went outside to discover the garage fully engulfed.
"The fire went to the house quickly," she said, managing to get a few items of clothing and photo albums, "The house filled up with smoke, and I couldn't get anything else."
"We did get our dogs out of harms way," she said.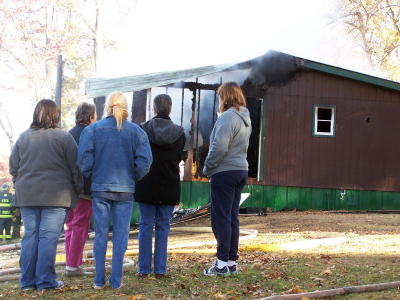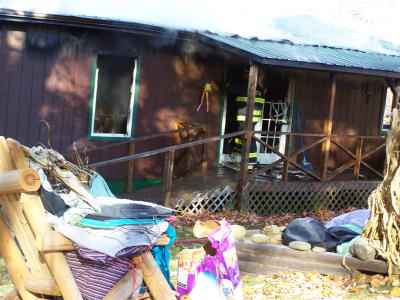 The Frederick family and friends watch dwelling burn,
with only a few belongings recovered from the house.
The Frederick family has lived at the location, just off State Rt. 16 at Big Springs Hill, for about 25 years.
They lost virtually everything.
The family is requesting assistance. Mr. Frederick: pants 34-30, extra large shirts; Mrs. Frederick, size 12 pants, medium to large shirt; need all household items, furniture and appliances. Contact Greg and Angie Frederick at 304-354-9403.
The Grantsville, Arnoldsburg and Smithville Volunteer Fire Departments responded to the 8:30 a.m. call, using tanker water.