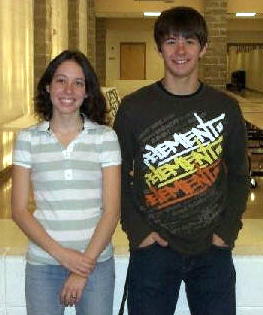 Photo courtesy of Calhoun High School
By Gaylen Duskey
realfang@citlink.net
Calhoun senior Anna Sampson closed her high school cross country career with a 26th place finish in the West Virginia High School Class AA-A Cross Country meet at Cabell Midland High School Saturday.
Sampson, who has competed in the last two state tournaments, covered the course in 21:41.03.
The race had 71 contestants and the individual winner was Rebekah McBride of Frankfort with a time of 19:31.45. Shady Spring won the team title with 61 points, 20 better than runner-up Wheeling Central Catholic.
In the boys race junior Justin Gerwig finished with a time of 18:09.80 which was good for 31st place. This was Gerwig's first trip to the state tournament.
Lenny Roach of Berkeley Springs won the event with a time of 16:15.09 while Ravenswood won a very close race, beating runner up Berkeley Springs by four - 77-81 - with Buckhannon-Upshur finis close behind at 89. The title was Ravenswood's ninth straight. Overall 83 runners competed.
In Class AAA Wheeling Park won the boys race and University of Morgantown won the girls race.