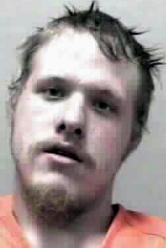 With property crimes rampant, a Calhoun County man has been arrested and charged with receiving stolen property.

Calhoun Sheriff Carl Ballengee filed the charges Wednesday evening and incarcerated William Ed Vandal, 22.

Vandal is being held in Central Regional Jail on $11,500 bond.

Last week, Sheriff Ballengee recovered two stolen ATVs and returned them to their owner, and arrested a Calhoun man in a case related to the burglary of six guns from a Big Springs residence in August.

Sheriff Ballengee charged Matthew Clay Bell, 24, of the Creston area, and charged him with nighttime burglary, breaking and entering and brandishing.

Bell is being held with bond set at $13,000.