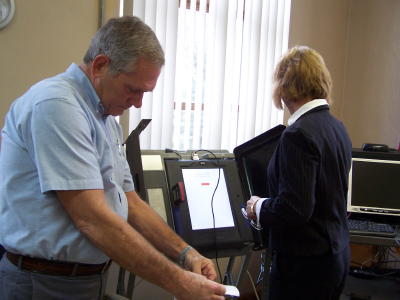 County Clerk Richard Kirby and Asst. Clerk Connie
Smith perform tests on county's voting machines
A final test on Calhoun's electronic voting machines was conducted yesterday by Calhoun Clerk Richard Kirby and his office staff, with the county's two ballot commissioners present with the three county commissioners.
"We're ready for Tuesday," Kirby declared.
A few voters from different counties continue to experience problems with electronic machines during early voting.
Wood County Clerk Jamie Six believes problems are caused when county officials do not calibrate and align voting machines properly.
Calhoun Clerk Kirby agrees.
"In Calhoun, we only have 33 machines, and we take a lot of time programming and calibrating them," Kirby said.
Kirby said "I could see where it might be a problem staying on top of them in a large county with lots of machines."
"We have yet to have a bonafide complaint about the computer not doing what it is supposed to do," he said.
He said if a voter encounters any kind of problem with casting their ballot, they should immediately call for poll workers.
Today, 19 counties in West Virginia use ES&S optical-scan machines, while 34 counties use ES&S touch screens. Wyoming and Braxton counties used paper ballots in recent elections.
The dozen or so complaints received by Secretary of State Betty Ireland are being checked-out and problems corrected, she told state media.
"When they tried to select specific candidates on the touch-screen machine, votes instead were reported for their choices' opponents."
Monongalia County Clerk Carye L. Blaney told The Charleston Gazette, "I don't think it is serious. I don't think it is a problem with the machine."
"Everyone touches the machine differently. The machine, by design, is sensitive. If you touch it with a finger, you may put pressure above the line where the candidate is, or below."
"But the machines clearly show you who you voted for. It puts a large green check mark next to the candidate."
Secretary of State Ireland has defended her selection of touch-screen voting machines by Election Systems & Software.
Still, the machines have been called into question in several states and some states no longer use them.