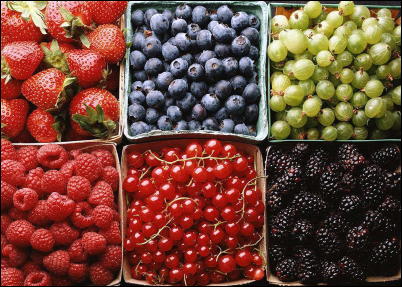 By Sue Cosgrove
The annual Wild Foods Potluck and Dessert Contest will be held Sunday at the Upper West Fork Park in Chloe on Rt. 16.
Doors open at noon for setup with dinner at 2 p.m. This is an absolute favorite event of the year for many -- one visit and you'll be hooked, too.
This marvelous day is provided courtesy of the vendors and friends of the Calhoun County Farmers' Market.
The original goal behind the Wild Foods Potluck was to encourage folks to taste foods harvested from the "wild;" i.e., woods, meadow, pond, pasture, and hillside. These foods include an assortment of wild greens, herbs, nuts, berries, fruits, game, fish, mushrooms and more.
The state of West Virginia is bountifully blessed with microclimates and eco-niches for a diverse diet; to be sure, there is something for everyone to enjoy! For the faint of heart, this event includes food from local gardens and orchards, which offers a great opportunity for sharing recipes.
A highlight of the event is the Dessert Contest which awards a $50 first prize, $25 second prize, and $15 third prize. The rules are simple: Each year vendors vote on the main ingredient to be used in the dessert. That ingredient MUST be locally grown - NOT from the supermarket. For example, the first year the contest ingredient was apples. You might not have your own apple trees, but perhaps a neighbor or relative does; those are local apples.
This year the ingredient is berries - try strawberries, blackberries, raspberries, gooseberries, elderberries, dewberries, blueberries - you get the idea.
They can be used fresh, frozen, canned, dried, preserved or whatever in your recipe, as long as they were grown locally. All dessert entries must be registered between 12:30 and 1:30 p.m. the day of the event and MUST be accompanied by three legible copies of the complete recipe. Judging is based on appearance, taste and nutrition. Dinner starts promptly at 2 p.m.
The event will include live local musicians, generously donated raffle and auction items, delicious desserts, "wild" and tame foods of all kinds, and some kindred souls who enjoy the simple pleasure of celebrating the blessings of the harvest, this day is one to write on the calendar. Bring family, friends, a covered dish and a hearty appetite.
The event is free and the public is welcome. Come join us. You'll remember it for a long time.
For more information? Call Tracy Magly 286-2905.