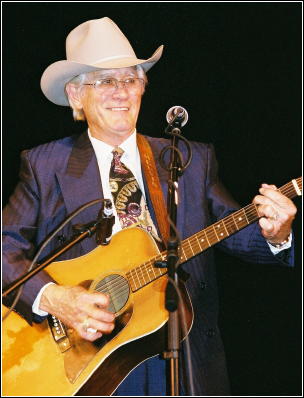 Submitted by Annette Barnette
Director, Marketing & Public Relations
Glenville State College
GLENVILLE, WV - Glenville State College will be welcoming bluegrass legend Melvin Goins when he joins the Glenville State College Bluegrass Band for the Bluegrass Master Series concert to be held Tuesday, October 21 at 7 p.m. in the GSC Fine Arts Auditorium.
Melvin Goins is most certainly one bluegrass music entertainer who can be classified as a legend. Goins has been actively involved in music for more than half a century, and throughout that time, he has been a tireless laborer in the bluegrass vineyard. Together, with younger brother Ray (now deceased), Melvin spent considerable time with the Lonesome Pine Fiddlers recording some of their more memorable RCA Victor recordings and all of their Starday material.
From early 1966 until the spring of 1969, he worked with the Stanley Brothers through the last months of Carter Stanley's life and the formative period of Ralph Stanley's solo leadership. Not only did Melvin work onstage with the Stanleys, but he booked them all over the country as well.
In between times spent with the Stanleys and then his own band, Melvin worked with Hylo Brown, Bill Monroe, and countless other artists. He did bookings for other artists and toiled as a sideman with Cecil Surratt's country group at WHIS-TV in Bluefield, West Virginia.
In the spring of 1969, Goins went back again with Ray and reformed the Goins Brothers. This duo had originally played on radio at WHIS Radio in Bluefield in 1953 prior to their work with the Lonesome Pine Fiddlers (Ray had been with his band earlier in 1952). Melvin and Ray picked and sang as the Goins Brothers for a quarter century until Ray suffered a heart attack in December 1994 and after then appeared in the group on an irregular basis.
During this time, the band labored steadily on the festival and club circuit making numerous albums. There were a great many side musicians of note who worked with the Goins Brothers. Among them were Curley Lambert of the Stanley Brothers and Flatt & Scruggs fame, Norman Blake who went on to the Johnny Cash Show, and fiddler Joe Meadows who also recorded with Monroe, the Stanleys, Larry Sparks, and Jim & Jesse McReynolds.
When Ray finally chose retirement from active performing, Melvin took the name Windy Mountain for his band and chose to continue. He has a traditional approach that retains elements of the Lonesome Pine Fiddler sound as well as that of other pioneer figures. Melvin Goins and Windy Mountain are moving forward in the new century with the brand of music that has taken their leader through a fair amount of the old one.
He, along with his brother, Ray, have been inducted into the International Bluegrass Music Association's Hall of Honor and Melvin is the only Bluegrass musician to ever appear on the front cover of the Smithsonian Institution magazine.
Admission to the concert is $5 for the general public. Students will be admitted free of charge. Proceeds go to the GSC Bluegrass Program. For more information, please contact Sheri Skidmore in the Fine Arts Department at (304) 462-4130.