Kathleen H. Taylor
fieldaflowas@yahoo.com

Well, it appears that it is Friday already. So, that means I am very behind on our wild area. I will try to get my head removed from the gluteus maximus area. I am sure you all are chomping at the bit wondering what the Beason drama is this week.

Betty beat me to the Halloween decorations again. I am a true blue Halloween junkie and I still can't get ahead of her. I'm going to have to skip Halloween and go straight to Christmas in order to beat her to it. It has been my mission for seven years and it has yet to be accomplished. My Christmas decorations will make the Griswold's hang their heads in shame. When I get those decorations up, it will be one of my finest hours! The tackier it is, the better the kids like it. Well, its confessional time. I am guilty of liking tacky stuff occasionally. I try not to make it a habit, but, the holidays turn the lights on and my brain off. Let the Christmas decorations games begin!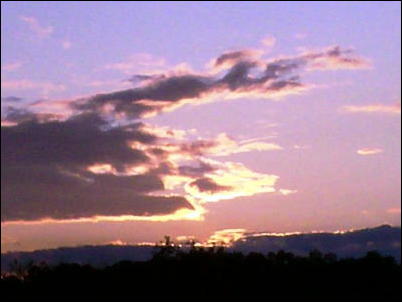 Under the Beason sky
Ethan started practicing with his trumpet this past week. Thank God he chose an instrument I knew something about. I don't know what I would've done if he had chosen the trombone. My old band director even told me I didn't have the coordination to play it. I found it too complicating to blow air and move my arm simultaneously. I was a brunette then, still couldn't handle it. Anyway, my concern was that Ethan wouldn't practice. I was totally wrong on that call. He was practicing at 6:45 this morning. Did you catch that? It was before 7:00 a.m. If you think I am crabby before noon, how do you suppose I am before 7:00?
I am equivalent to Jabba the Hutt. I am sorry to say I am almost equally attractive when I first roll out of bed. Do you remember when you never wanted your Mom to come to school for any reason? When I thought that, my worst fear was my Mom showing up in polyester. Ethan's worst fear is Ms. Hutt making an appearance. Unfortunately, his biggest fear was realized today. I had to give Ethan his field trip money before the class left. Ms. Hutt had to go to school. My sympathy goes out to Ethan. Hopefully, it won't scar him for life. If I survived Mom's polyester, he can survive a little Jabba every now and then.
Beason wishes the Rebels good luck with their dual with Ravenswood. We will be proud of the team no matter what. You guys have worked very hard this season and deserve to be commended for that. Unfortunately, we chose not to go to the game. But, we made the decision for the sake of all of you. We thought you would probably not enjoy the Homecoming events with a six year old announcing how cold he was throughout the entire night. No need to thank me. Beason (well, at least me) would also like to wish Calhoun County good luck with their game against South Harrison.
The Main Street Hair Studio will be adding another member to the crew. Our new stylist is very experienced in all magical hair creations. He goes by the name of "Trick" and he is looking forward to meeting our devoted clients as well as adding to our list of special people. He is planning to work on Mondays to accommodate each client's needs. Stop in and meet "Trick" when you get an opportunity to do so. I believe I can truthfully say he will probably be the only sane one of the crew.
I got a special visit from my good friend Thelma this week. It was hard to catch up on everything in our lives in just a short time. But, I am so glad she stopped by. Plus, I am really excited that she is working the boots almost as well as I do.
My song of the week is, "Why?" by Jason Aldean. It's a good tune and he sort of reminds me of a younger and hotter version of Dwight Yoakam.
Peace.