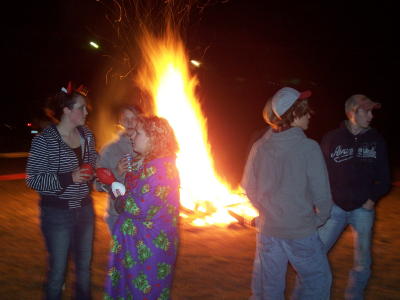 Football weather drew a large number of Red
Devil supporters for a bonfire Thursday night
The WVU 4-H sponsored bonfire drew a large crowd last night at the Mt. Zion Community park, drumming up enthusiasm for the red Devils homecoming game tonight with the South Harrison Hawks.
Players, students, parents, coaches, the school's cheerleaders and Jim Sullivan, WVRC's voice of the Red Devils, raised excitement for the game.
Calhoun County Extension Agent, Curtis Garretson thanked additional sponsors, Calhoun Banks, Foodland, WVRC 104.7, and the 4-H Leaders Association for assisting with the event.