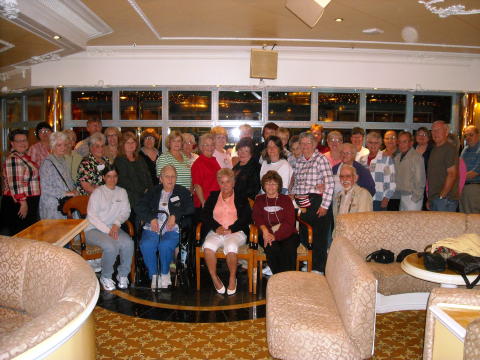 Submitted by Brenda McBride
The Calhoun County Committee on Aging sponsored a cruise to Nova Scotia on Carnival Victory cruise ship September 6-13.
Although the picture does not show everyone, a list of area folks who enjoyed the trip include, Betty Rader, Ester Parsons, Leona Bowman, Cheryl McCroskey, Gene and Marjorie Mahaney, Jackie and Ernestine Blankenship, Barbara Robertson, Jane Parks, Sybil Hickman, June Buchanan, Jerry Robertson, Beverly Coberly, Barbara Hudson.
Also, Shirley Ball, Helen Jordan, Ronald and Carol Sloane, Mattie Burch, Angela Neal, Peggy Cain, Linda Carder, Fern Byrd, JoAnn Straub, Sandra Rentschler, Teresa Harris, Marianne Hune, Johanna Nutter, James and Betty Epling, Larry and Enid Harpold, Clarise Ellington-O'Dell, Shirley Campbell, Glenda Hissom, Helen Johnson, Brenda McBride, Cindy Cottrell, Jeannie Wagoner, William and Veronica Knost, Pam and Roscoe Gainer, Janet Marks, Teresa Miller and Norma Schartiger.