Story and Photos by Drew Moody

Audiences will be treated to the David Ives adaptation of the Mark Twain play Is He Dead? opening tonight for a three-night engagement at Glenville State College.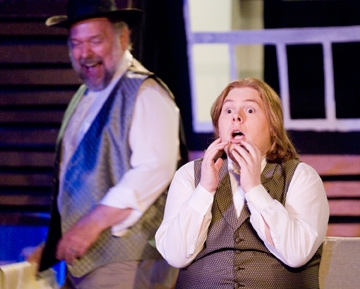 Millet (J.C. Sherman) reacts as he learns of the deadly plan.
The plot of the comedy centers around a fictionalized view of famous 19th century painter Jean-Francois Millet.
The play opens finding Millet deep in debt and unable to sell even one painting. A financier who gave him an advance on future sales demands his money back, and Millet doesn't even have money to pay his rent.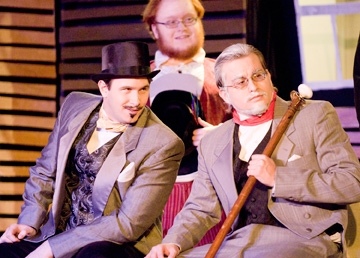 Bastien Andre (Paul Nagy, left) offers to cease
collection efforts if Papa Leroux (Justin Church)
agrees to allow him to marry daughter Marie.
When a buyer refuses to purchase a painting only because Millet is still alive, suggesting only after the death of an artist was their work worth anything, Millet's friends cook up a plot to raise funds.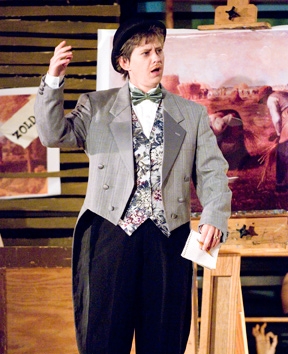 Kim Conrad (journalist Claude Riviere)
makes her debut on the GSC stage.
The plan has Millet coming down with a tragic illness and after suffering for a time -- plenty of time to spread the word about his approaching death -- they'll cash in on his works.
Newcomer J.C. Sherman, of Weston, in his GSC stage debut handles the part of Jean-Francois Millet and later, the Widow Tillou, masterfully.
Audiences will be treated to the unexpected appearance of play director Dennis Wemm, as O'Shaunessy. His presence on stage fires up the cast as he clearly enjoys the part, even though it's a last minute replacement role.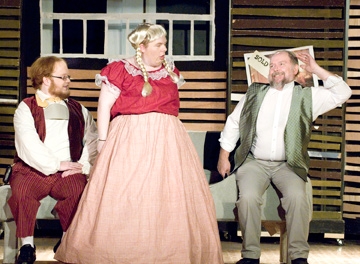 Dutchy (Chris Summers) left, and O'Shaunessy (Dennis Wemm) try to teach the Widow Tillou (J.C. Sherman) the proper way to sit in a dress.
Other featured players the audience will be familiar with is Paul Nagy, who handles 'the bad guy' role of Bastien Andre with ease. Edmond White, as Chicago, and Chris Summers, as Dutchy, play roles as Millet's closest friends who help maintain the ruse.
Millet gets out of debt on the first painting sale. But who would have thought the Widow Tillou would attract a love interest?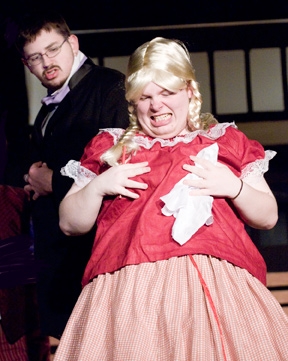 As the Widow Tillou (J.C. Sherman) explains she's too big all over.
Friend Chicago (Edmond White) responds from behind the widow.
Is He Dead? will be performed Thursday, Friday and Saturday evenings beginning at 8 p.m at the administration building auditorium. There is no charge for students. Ticket prices for non-students is $3.00. The play has a PG-13 rating.