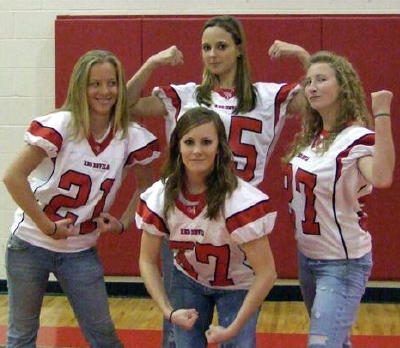 Front - Chelsey Ball; Back (L-R) Emily
Brady, Nekka Pinson and Shaina Wilson
By Shari L. Johnson
Coached by Calhoun High School Football players, the first annual Calhoun Pride Powder Puff Football Championship will be held on the school field this Friday.
There is no scheduled football game.
Sophomore and Junior girls have been spending their free time during lunch for practice and coaching tips from Zach Moore, Jacob Haught and Aaron Yoak, as well as other volunteers from boys football.
The game features will be 7th grade vs. 8th grade, a pre-game certificate event at 6 p.m. with the Senior-Freshman vs. Sophomore-Junior Powder Puff kick off is at 7 p.m.
The winning team will receive a beautiful 32" trophy and a winning team photo for each player as well as bragging rights for the year.
Admission $3 students,$4 adult, with concessions available.
Halftime entertainment will be a "Dance Off" between the Calhoun Powderpuff Male Team vs. the Calhoun Varsity Cheerleaders.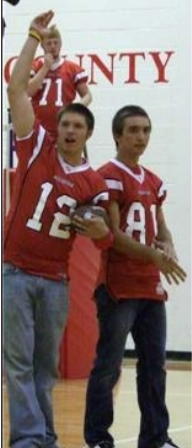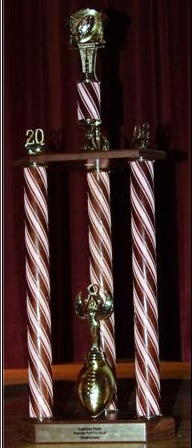 Coaching staff Zach Moore, Aaron Yoak and
Jacob Haught - Grand Champion Trophy