By Drew Moody

Jazz musicians may have to be 'in the mood' to find their groove.

In contrast, most bluegrass musicians just love to play.

On a recent perfect evening at Burnsville Lake the Glenville State College Bluegrass Band performed from a boat moored at the docks.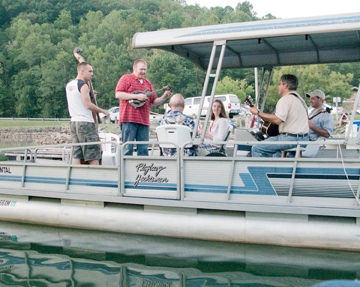 GSC Bluegrass Band members pictured, clockwise from left,
Josh Chapman, Luke Shamblin, Mary Sue Bailey, Patrick Thompson,
David O'Dell, GSC chemistry professor; and Buddy Griffin.
Music drifted lazily to listeners on a mild, windless night. Occasionally, between numbers, you could hear water gently lapping against the side of nearby boats.
Burnsville Dock owners Dave and Judy Waldron typically sponsor concerts twice a year.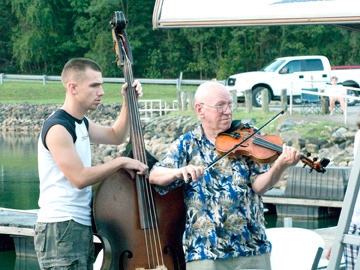 Josh Chapman, left, paces the tune on
bass as Buddy Griffin plays fiddle.
Fishing and bluegrass music are favorites at the lake.
"They've been catching super nice catfish and musky," Dave Waldron reported.
In August a Vienna man caught a 50-inch musky, while another fisherman pulled out a catfish topping 50-pounds.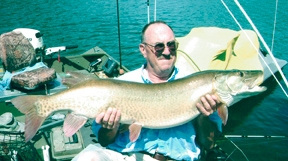 Bill Boggess, of Vienna, WV recently
pulled a 50-inch musky from Burnsville Lake.
According to Waldron, from around late September until mid-November, conditions should become ideal for musky, crappie and bass. Although Burnsville Docks finishes its season during the third week in October, lake remains open to the public year round.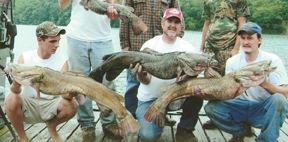 These West Virginia anglers show off their
catch following a recent night of catfishing.
Glenville State College is home to one of two colleges nationwide offering 4-year music degrees specializing in Bluegrass music. Braxton County native Buddy Griffin heads the program.