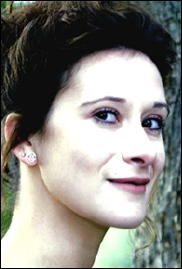 Morgan Grahame, a 2001 graduate of Calhoun High School, was the recipient of a DayTony Supporting Actress award for the 2007-2008 Dayton, Ohio theatre season.

The DayTonys are annual awards given by the Dayton theatre community to honor outstanding performances and technical achievements by members of the Miami Valley theatre scene.

Grahame received her DayTony for her performance as Anne in the musical "Shenandoah" at the Victoria Theatre.

"Shenandoah," a musical adaptation of the 1964 movie starring James Stewart, swept the awards for the 2007-2008 season.

In addition to Grahame's supporting actress award, the play won in a broad range of categories including leading actor, direction, musical direction set design, costume design, and best ensemble cast.

In addition to the DayTony, Grahame received a certificate honoring her as a member of the award winning cast.

Since graduating from Davis & Elkins in 2005 with a degree in Theatre Arts, Grahame has worked steadily in the theatre as an actor, dancer, singer and choreographer.

She will soon be seen in "Brother Wolf" at the Human Race Theatre in Dayton.

Brother Wolf is a musical adaptation of the Beowulf legend transported to 20th century Appalachia.

Grahame is a member of Actors Equity and the national association of professional actors.

She is a former student of Heartwood in the Hills and considers Jude Binder her professional mentor.

Grahame is the daughter of Neil and Susan Grahame of Minnora.