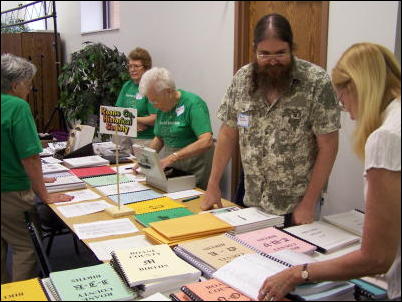 Folks look over an array of the Historical Society's
large number of local books for sale at the 2007 Fair
One of the regions largest history and genealogy fairs has a new location this year, Spencer's Heritage Park.
Roane County Historical Society's 14th Annual Genealogy Fair will be held Saturday, September 27 from 9 a.m. to 3 p.m.
You'll find a room filled with people with an interest in the genealogy and history of the Roane County area with lots of research material available.
Organizations and individuals from the surrounding area will have displays, selling books and publications, or just sharing information.
There will be people not only willing, but excited to talk to you about your family history.
The Heritage Park Community Building is located on Church Street, a short distance from the courthouse. Food available on site. Hourly door prizes will be given.
To reserve a display area, or for further information, you can contact Johanna Nutter, johanna@wvroane.org or Carol Board-Westfall, carol@wvroane.org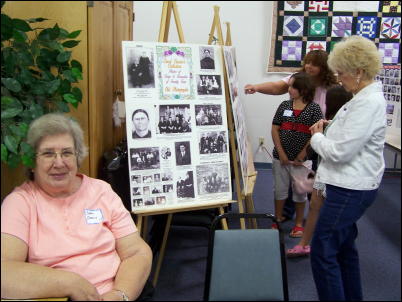 Roane County native Carol Cronin displays huge
historical photo collection at the 2007 event