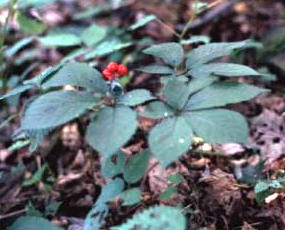 West Virginia's ginseng season begins September 1.
State forestry officials are reminding diggers of the rules.
The Division of Forestry says only ginseng plants that are at least 5 years old can be harvested.
Diggers can determine a plant's age by counting its prongs.
Plants with at least three prongs are old enough to harvest.
Diggers also are required to replant the seeds of a harvested plant at the same location.
Ginseng on public lands cannot be harvested.
Much of West Virginia's ginseng is exported, mostly to China.
The root is popular in Asia and is often brewed in teas to cure digestive ailments, headaches or act as an aphrodisiac.