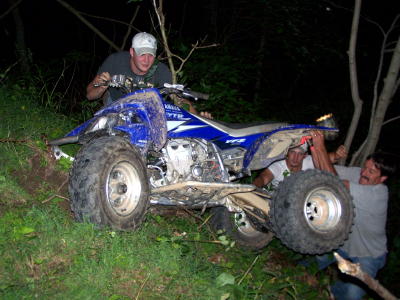 Workers retrieve a reportedly stolen ATV that wrecked
over a steep embankment after encountering patrol car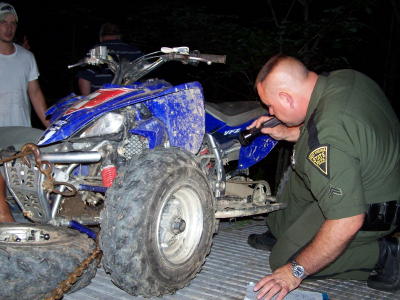 Cpl. Doug Starcher examines ATV for serial numbers
There was four-wheeler action in the Village of Hur late last night, with one ATV apparently fleeing from Cpl. Doug Starcher, striking a concrete cistern, and then wrecking over Hur Hill.
Cpl. Starcher. who was answering a separate call on Rowels Run, came upon two ATVs near the Hur Church about 10 p.m., the driver of the second ATV also fled on foot.
Starcher said the wrecked ATV appeared to be stolen.
Both drivers fled into the woods.
As Calhoun EMS and the Grantsville Volunteer Fire Department arrived on scene, at least one of the individuals could be heard yelling obscenities from a dark hollow.
A search was in progress to find out if the individual was injured.
The county has had a rash of stolen ATVs in recent months.