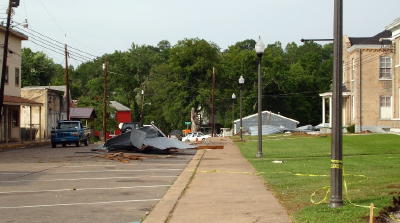 Wind tore roofs off businesses, this one landing in street
beside courthouse, while other debris lit on courthouse lawn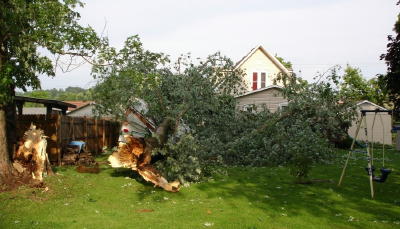 Micro-wind storm took trees down, this
one landed on Jimmy Roberts' camper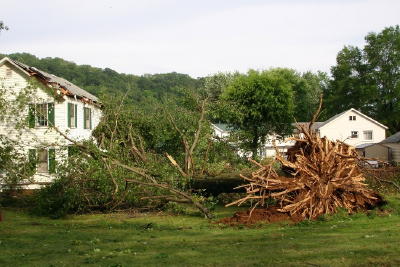 Several houses were damaged, above is the
old Marshall place on Washington Street
(Photos by Diane Ludwig)
A damaging summer storm with high winds cut a swath through part of the Town of Elizabeth and the nearby area this afternoon doing extensive damage.
The storm downed a number of large trees along the town's streets and in yards, damaging vehicles and campers and tore the roofs off businesses around the courthouse square.
OES Director Steven Settle said the storm struck about 3:30 p.m., with several other thunderheads crossing the area throughout the evening.
The wind cut a path starting on Tucker's Creek Road, and then to Summers Street.
Particularly hard hit were the areas bounded by School, Court, Juliana and Cherry Streets.
The micro-wind storm then went to Courthouse Square, up Washington Street, crossing the Little Kanawha River to Rt. 53 and ended up on Newark Road.
So far there are no reports of injury.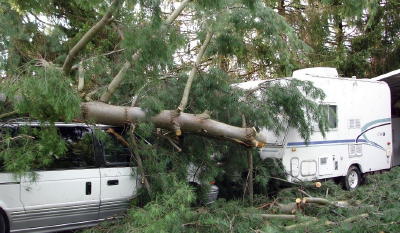 Stempowski's van has pretty well had it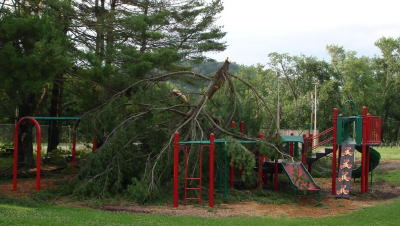 Trees down in Sportsman's Park