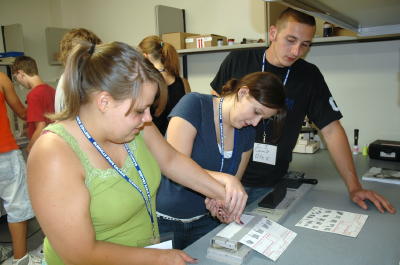 Kasey Gumm of Lewis County takes finger prints from Trenda
Overbay of Calhoun County. Camp Counselor Alex Amick, a
GSC senior Criminal justice major, oversees the procedure
Submitted by Bob Edwards
Public Relations Dept. Asst.
Glenville State College
Glenville, WV - Ten students from eight West Virginia counties are learning a lot about the criminal justice system while attending the Glenville State College Criminal Justice Camp.
The five day camp exposed the campers to many aspects of the criminal justice system. GSC Criminal Justice professors and law enforcement officers teach students a variety of skills including: interviewing witnesses and suspects, crime scene investigation and preservation, finger printing, evidence collection, corrections system, and court cases. "Much of the training is hands on experience for the campers. We really try to walk them through all aspects of criminal justice" said Dr. Jami Myers, GSC Assistant Professor of Criminal Justice.
The highlight of the camp was a mock murder trial. Campers were split into two teams, the prosecution and the defense. Using the skills they acquired during camp, the teams investigated a staged murder scene and prepared evidence and witnesses for a trial. Their case was then presented in court before a jury.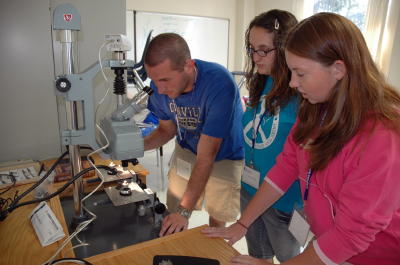 Senior James Caudill of Clay county shows Arianna
Rickman (center) and Sierra Warner, both of Upshur
County how to use the ballistics microscope
"The Criminal Justice Camp is a wonderful opportunity for the students to learn about careers in criminal justice. It also allows Glenville State College to showcase our Criminal Justice Department to potential students," said Myers.
Kasey Gumm of Weston recently graduated from Lewis County High School. Gumm is enrolled at GSC for the Fall of 2008 where she will study Criminal Justice. "I have known since I was in the eighth grade that I wanted to go into criminal justice. I hope to become an FBI agent. Camp has really been interesting. I really like doing the finger printing and evidence collection," said Gumm.
Logan Marino from Fairmont will be a high school junior this fall. His interest in criminal investigations comes from watching law enforcement shows on television. "I have been watching them at night here at camp to see if I can see some of the techniques that we have learned. I am really interested in ballistics and crime scene photography." Marino says he will study Criminal Justice in College and GSC will be high on his list because of the reputation of the GSC Criminal Justice Program.
For more information about the GSC Criminal Justice Camp or the Criminal Justice Department at GSC, contact Myers at (304) 462-7361 ext. 7284.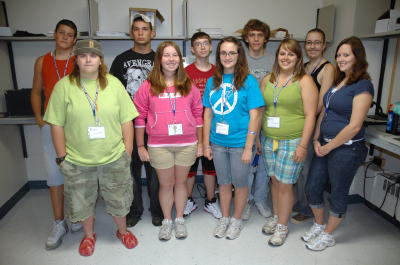 GSC Criminal Justice Campers (L-R) Logan Marino of Marion
County, Abigail Bucheimer of Lewis County, Andy Goffreda
of Roane County, Arianna Rickman of Upshur County, Chris
Shackleford of Wetzel County, Sierra Warner of Upshur County,
Chris Hammack of Preston County, Trenda Overbay of Calhoun County,
Robin Pennebaker of Gilmer County, Kasey Gumm of Lewis County