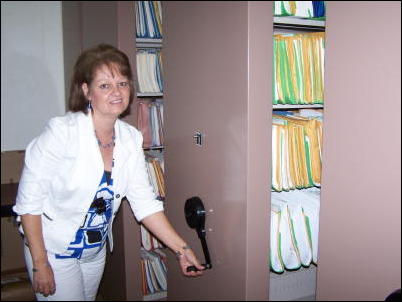 Clerk Shelia Garretson displays moving file system
that will allow better access and preserve records
The Calhoun Circuit Clerk's office has modernized a filing system that likely dated back 65 years.
County Clerk Shelia Garretson says the system utilizes the space in the room, which giant shelf files on tracks that can easily be moved by hand.
The upgrade was made with a $26,000 grant from the Division of Culture in Charleston.
The system will not only protect and preserve the files, but allow easier access.
The files in the office go back to the origins of the county in 1856, absent the Civil War years.
"More files will be added against the wall to complete the project," said Garretson.