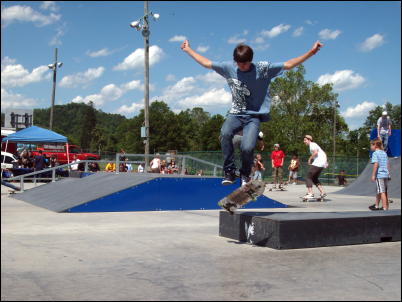 Justin Gerwig warms up before the skills competition
Bradley Carpenter, Justin Gerwig, and Dustin Simmons traveled to Gallipolis, Ohio Sunday for the grand opening and dedication of the new skate park at Haskins Park in Gallipolis, Ohio.
All three skaters competed in a game called "SKATE" against other skaters and won prizes.
Justin Gerwig entered the Skateboarding Skills Competition and won 6th place out of 12 skaters in his class.
Bradley is the son of Rick and Lottie Thomas of Arnoldsburg, Justin is the son of Tom and Jamie Gerwig of Grantsville, and Dustin is the son of Harry and Linda Simmons of Sand Ridge.
The skaters are among Calhoun's accomplished skateboarders.
Calhoun County should be very proud of how well they were represented by these fine young athletes.