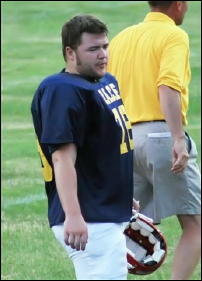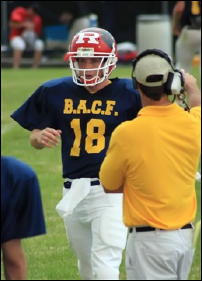 Zac Yeager (left) and Matt Houchin (right)
Submitted by Penny Yeager
Calhoun County's Zac Yeager and Matt Houchin participated in the The 15th Annual B.A.C.F. (Battle Against Cystic Fibrosis) Football Classic, Friday June 13 at Warren High School, Warren Ohio.
Zac, number 78, played offensive guard for the West Virginia team and Matt Houchin, number 18, was quarterback. The West Virginia team won the game 17-14.
Due to weather conditions the game had to be called late in the 3rd quarter giving the WV team the win.
Both Zac and Matt started and played the entire game at their respective positions.
Matt was 4-6 for 86 yards and a 41 yard touch down pass to Williamstown's Kevin Board.
Matt was elected as one of the captains for the WV team by his WV teammates.
Each year Mid Ohio Valley athletes help raise thousands of dollars which goes toward finding a cure for Cystic Fibrosis.