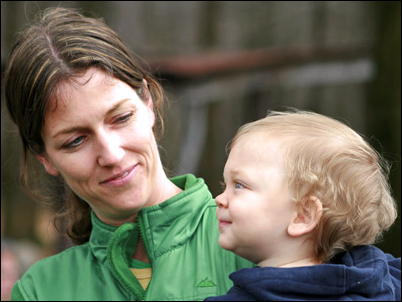 Sammy in his mother's arms a week
before being diagnosed with cancer
Submitted by Diann Clothier
The Appalachian Classic MTB Race & Festival - aside from the usual fun - is accepting donations for Sammy Klimas, the young son of one of WV's Mountain Biking Community's favorite personalities, Benji Klimas.
Please help raise funds for the family of Sammy Klimas, a 10 month old who was recently diagnosed with cancer (Neuroblastoma).
There are a number of items up for raffle at this weekend's event in support of Sammy - tickets will be sold at the barn building at the Calhoun County Park, with the drawings Sunday afternoon after the Mountain Bike race. If you have something neat you would like to donate for raffle, drop it by the park Saturday, June 14.
The latest news on Sammy is available at www.caringbridge.org