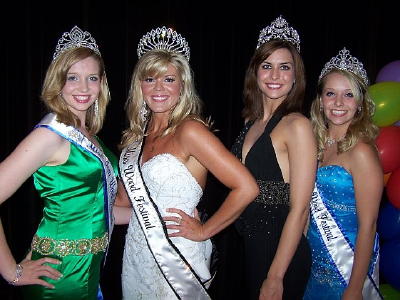 Wood Festival Royalty pictured left to right
Miss Teen Wood Festival, Niki Liles
Miss Wood Festival 2008, Britanni Mills
Miss Wood Festival 2007, Hannah Law
Miss Teen Wood Festival, Nichole Parsons
Submitted by Paige Toney June 2008
The Calhoun County Wood Festival Pageant committee are proud to announce the winners of the Miss Wood Festival and Pretty Baby Pageants held Monday and Tuesday at Calhoun Middle-High School.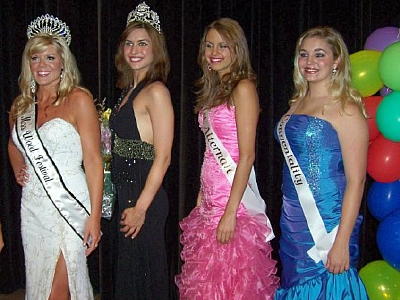 (L-R) Britanni Chase Mills, Miss Wood Festival 2008
Hannah Law, Miss Wood Festival 2007
Leslie Garrett, will represent Calhoun County
at WV's Fairs and Festivals as Miss Wood Festival
Ashley Conley, Miss Congeniality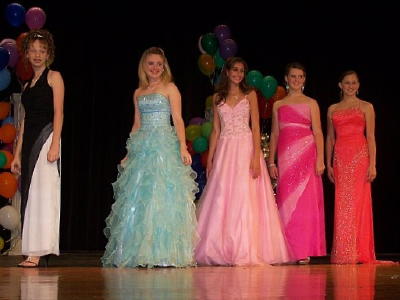 (L-R) Danielle Kendall; Shayla Arnold, First
Runner-Up; Dominique Collins, Second Runner-Up;
Elle Webb; and Emily Bain, Jr. Miss Wood Festival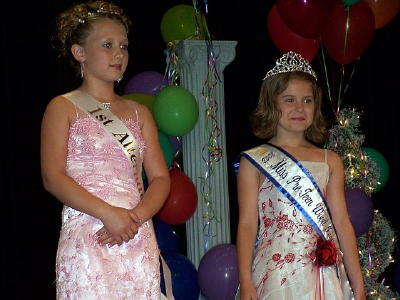 (L-R) Jasmine Fluharty, First Runner-Up
Alexis Webb, Miss Pre-Teen Wood Festival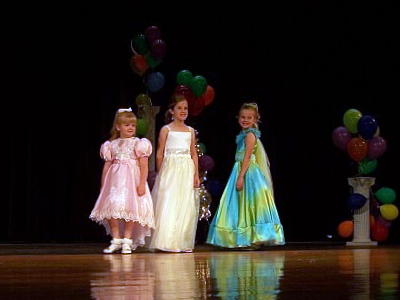 (L-R)Mini Miss Wood Festival, Tori Arnold; Carissa Yoak,
First Runner-Up; Little Miss Wood Festival, Kamaira Myer
The pageant committee will have jars set up at the Wood Festival information booth for people to vote for their favorite Queen Flora contestant. The "People's Choice" will be crowned Thursday evening after the crowning of Little Mr. and Miss Woodchuck. Stop by the booth and vote for your favorite girl to wear the crown.
WOOD FESTIVAL PRETTY BABY WINNERS

Photos will follow when available from pageant committee
Baby Mr. Wood Festival - Rylan Michael Haynes
Baby Miss Wood Festival - Kaelin Rae Williams; 1st Runner Up - Jenna Smith; 2nd Runner Ups - Jessie and Tressie Starcher
Wee Mr. Wood Festival - Tyler James McAlister
Wee Miss Wood Festival - Kendra Robin Davis; 1st Runner Up - Kelsey Dawn Snider; 2nd Runner Up - Kaydee Lynn Martin
Tiny Mr. Wood Festival - Isaac Joshua Koon
Tiny Miss Wood Festival - Lilliun Grace Beall; 1st Runner Ups - Teiarra Presta and Maycee Cheyene Carter
Toddler Mr. Wood Festival - Landon Cole Richards
Toddler Miss Wood Festival - Kylee Sue Blair; 1st Runner Up - Emily Grace Anderson; 2nd Runner Ups - Lauren Kate Smith and Lindsay Smith
Small Miss Wood Festival - Amelia Kristine Cain; 1st Runner Up - Kimberly Dawn Koon