By Bob Weaver 2008

Errastus Gene Stump was a young Calhoun man who went off to get a job and seek his fortune.

The headless body of the twenty-eight-year-old was found in April, 1982 in northeastern Rutherford County, not far from Bristol Virginia.

Twenty-six years later, authorities have arrested Mac Ray MacFarlane (who changed his name from McFarlin) age 49, who was Stump's co-worker at the time.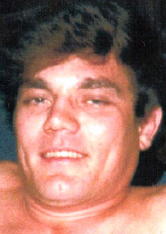 Stump (pictured left) was the son of Loren G. and Katherine Rogers Stump of Stumptown. Loren Stump died in Spencer 2001.
Both Gene Stump and MacFarlane had been working at Thompson and Green in LaVergne.
MacFarlane has now been charged with Stump's murder after authorities posted the murder as a cold case file and his former wife came forward to testify that MacFarlane told her he had a few beers and shot the former Calhoun man.
Two fishermen found Stumpšs decomposed body near the shore of Percy Priest Reservoir about a month after he disappeared.
MacFarlane was arrested in April at his job at Tri-City Extrusion in Bristol, Tennessee where he was a plant engineer. Bristol is a town that rests in Virginia and Tennessee.
Police said MacFarlane was a "strong suspect" at the time of Stumpšs death in 1982.
MacFarlane's former wife, Donna Burroughs, said that while she was married to him from 1978-92, he admitted he shot Stump. She said he told her after consuming a few beers at a Red Lobster.
"He told me he had killed him," she testified.
According to her testimony, Stump and her husband left together one night to fix a gun scope, but her husband returned in Stump's car without him.
"He told me some friends had picked him up," Burroughs said. "I didn't think anything of it."
According to Burroughs, MacFarlane talked about Stump's murder at least four times. She said he would talk about the murder when he was drinking, drunk, or angry.
"He was drunk and angry with me one time and he asked me if I wanted to be buried at the lake with Stump," she said.
She said MacFarlane killed Stump to get his job.
Detectives testified that Stump's shoes and skull were missing when the body was discovered, but skull fragments were pieced together by a forensic pathologist in Knoxville. He determined that Stump died from a gunshot wound to the back of the head.
MacFarlane and Stump knew each other because they committed a robbery together at a store in La Vergne, police said.
MacFarlane told police he gave Stump $180 and two bottles of Miller beer in preparation for a trip to Ohio to meet with a female friend. He said Stump owed him money.
MacFarlane said Stump gave him three guns, one a 30-30 and cashed an income tax check belonging to Stump, apparently because Stump owed him money.
During MacFarlane's recent arrest, he said he did not remember his statement in 1982.
A forensic pathologist confirmed that kind of gun, a single-projectile firearm, is consistent with the type of injuries received by Stump.
The Cold Case Unit formed in July 2007 said they found three previous wives of MacFarlane, all of whom said they were afraid of him because he had admitted the murder in the past.
The 2001 obituary of Loren Stump, Gene Stump's father, listed his survivors, five daughters, Sharon Norman, Joyce Miller and Vickie Carpenter all of Spencer, Charlene Wagoner of Gauley Bridge and Jewell Bastardo of New Jersey; also four sons, Glen Stump of Glenville, Steve Stump of Tennessee, Dwayne Stump of Spencer and Clifford Stump of Arnoldsburg; a brother, Leon Stump of Beaver Falls, PA; three sisters, Ella Elliott and Arlene Hicks of Arnoldsburg and Leta Boatright of Grantsville.