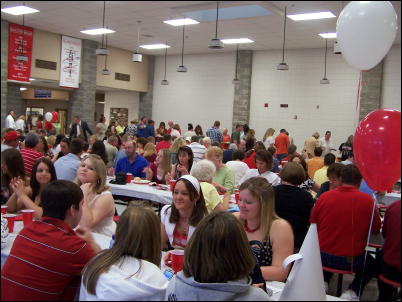 It was a big event, a buffet dinner and All-Sport Awards
A large crowd attended Calhoun High's All-Sports Banquet Friday evening, with football coach Bryan Sterns giving his farewell, leaving the position after a four-year stint and winning teams.
The awards ceremony followed a huge buffet dinner.
The highlight of the event was the presentation of the Wayne Underwood, the Lady Red Devil and the Wall of Fame Awards. (See earlier Herald story 5/24/08)
Master of Ceremonies, Bob Bailey said of Sterns,"He is a leader, respected, humble, and inspiring."
"He has special attributes," after listening to how Sterns talks to his players, he said. "That's not so with many coaches. He's big in my book."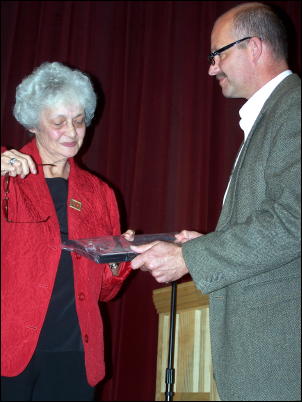 Coach Sterns honors his mother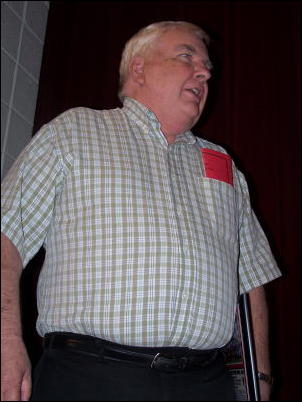 Duane "Boozy" Wolverton raised $10,000
for uniforms, receives special recognition
Sterns called his mother to the stage, honoring her for being his "big supporter." He said "She made me finish what I started."
"I thank the parents, players and supporters," he said, saying "It has been my honor to be a part of these young men's lives."
Kelley Houchin, representing the local athletic boosters, presented three special awards, one to Calhoun Chronicle editor Newton Nichols for his longtime keeping of statistics and reporting on school sports, a second to "Boozy" Wolverton for his long-time support and fund-raising efforts for the Red Devils and to Faye Fitzwater and Marge Gherke and the First Baptist Church for preparing meals for athletes.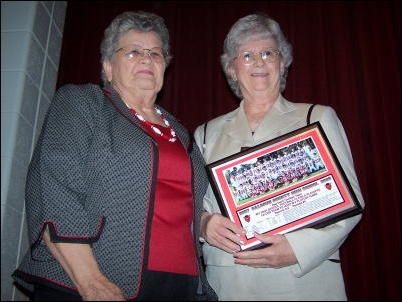 Boosters recognize First Baptist Church,
Marge Gherke (left) and Faye Fitzwater (right)
"These people have made contributions beyond any calling to our athletic programs," Houchin said.
Major athletic supporters, the Amigos, (L to R) Loyd
"Sonny" Wright, Junior Smith and Duane "Boozy" Wolverton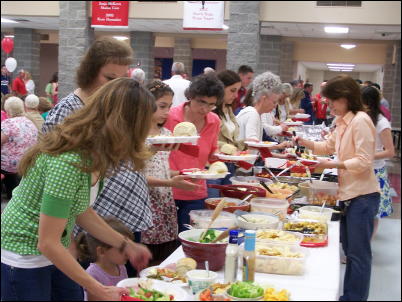 It was a big buffet dinner
Read 5/26/08 Most Valuable Players Honored